The Fearless Momma, that's the name of the new money-making system presented by Tammy Montgomery which promises to provide its members with an easy way to "pocket a $250 commission" within just 72 hours of getting started, even if you've never previously made so much as a single dime online before.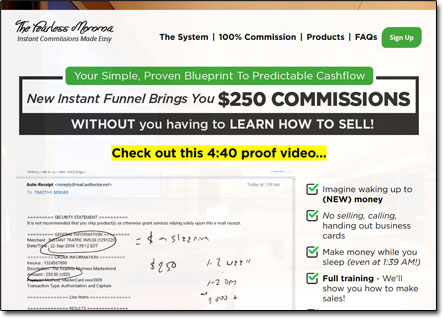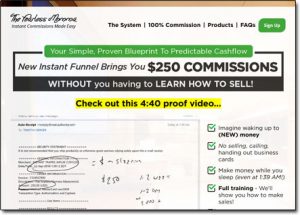 You're told that you'll get a "simple, proven blueprint to predictable cashflow" & that you can begin earning in just 3 steps…
But those are some pretty darn bold claims so what's the truth? Can you really make money so easily with Tammy's program? Or is The Fearless Momma a scam that's actually just set out to part you with your hard-earned cash instead?
The good news is that you've landed in exactly the right place to find out as I've personally taken a closer look into this system myself to see exactly how it works & in this honest review I'll be uncovering the real truth – as well as outlining whether or not you can really make any money with it as Tammy claims.
What Is The Fearless Momma?   |   How Does The Fearless Momma Work?   |   Why Most People Will Fail   |   The Program's Hidden Past   |   Is The Fearless Momma a Scam?   |   A Better Alternative
What Is The Fearless Momma?
The Fearless Momma, it sounds like a program for overcoming anxiety but nope, despite its strange name, it's actually an online money making program (or should I say scheme) that's presented to us by a lady named Tammy Montgomery…
Tammy, "The Fearless Momma" Montgomery claims that she's discovered a fool-proof method that can enable anybody to begin earning instant commissions of $250 – or even up to $1,000 online.
And on top of that, she also claims that as a bonus, through her program she'll also share with you another secret that will enable you to travel the world, sleep in 5-star villas and "still collect big fat checks in the mail"…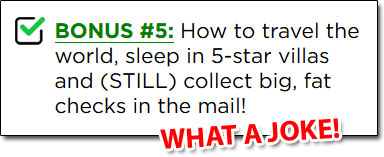 But obviously those are some pretty crazy claims, and you know what they say about stuff that sounds too good to be true… It usually is!
So can you really make money with The Fearless Momma system or is Tammy just using it to scam people out of their hard-earned cash to make herself wealthy at their expense instead?
Well, in short, the answer is kinda "halfy-half"…
I mean yes, there is some potential to make money through The Fearless Momma system as you'll soon see, but the truth is that it's more of a scheme than a system – and it's also 100% illegal.
In fact, just recently the FTC shut down 2 very similar schemes named Digital Altitude & MOBE – so it's safe to say that I won't be holding my breath with regards to how long The Fearless Momma will last.
I imagine it won't be long at all… Instead, people like Tammy Montgomery will just promote it for a short while, get people to part with their cash through it so they can earn from them & then they'll move onto pushing something else instead, like the Easy 1 Up scam.
I see these kinds of people online all the time pushing scheme after scheme & none of the members they bring in ever ending up making the good money they promise – instead the people bringing them into the schemes just end up profiting at their expense.
Sadly though people will never stop looking for ways to get-rich-quick (even though they don't actually exist) and that's just exactly what all the people pushing these scams like The Fearless Momma prey on.
How Does The Fearless Momma Work?
In short The Fearless Momma system is one of the "sign up to this to make money systems" where you later find out that the way you actually make money with it is just by getting other people to sign up to it exactly like you did…
And whilst there is technically a "product" in the form of some very basic online marketing training, it's quite clear to see that the majority of the emphasis is put onto the money-making side of things (as shown from the main landing page below) which essentially means that it's a pyramid scheme:

People are signing up to make money, and they're making money (or trying to) by getting other people to sign up to make money just like they did.
By definition, that is a pyramid scheme – and as you likely know a pyramid scheme is illegal.
So whilst there's the potential to make money with The Fearless Momma as I mentioned at the start of this review, ultimately it will not only be very difficult to do so (due to low-quality training provided) but it will also be illegal to do so, and in the eyes of the law as a member of a pyramid scheme you are just as much at blame as the owners.
That means this is definitely NOT something you want to get involved with – at least I hope not, anyway.
Most People Will FAIL With The Fearless Momma
If you have thrown your morals out of the window & you are still considering signing up to The Fearless Momma to make money by suckering other people into it then you should know that you will likely fail anyway…
The reason for that is because despite The Fearless Momma being portrayed as some sort of "done-for-you" system that will do all of the heavy-lifting & work for you, in reality it's not – it's far from it.
All of these types of get-rich-quick scams claim the same thing but in order to stand any chance whatsoever of making money from them you must know how to market them effectively online.
That's where the likes of Tammy Montgomery come in – because they're expert online marketers. They know how to get people to things to like this, and they might tell you that it's easy, but it's not… However, they'll only leave you to find that out the hard way after you've handed over your cash.
Think about it – if it was easy then everybody would be doing it – and they're not… Because it's not easy!
I mean don't get me wrong it's possible, sure, but if you want to stand any chance of making good money online then you need the help of a legitimate training platform like Wealthy Affiliate, not some junk like The Fearless Momma.
You Might Also Like:
After trawling through the lengthy, outrageous & full-of-BS sales page for The Fearless Momma I noticed something at the very bottom of the page which read as follows:
Your Fearless Referrer Is Tim Berger
Tim Berger? Who the heck is this guy? I visited the website of The Fearless Momma directly… Nobody referred me there so where the heck has this Tim Berger name come from all of a sudden?
I did a little bit of digging & it seems that Tim Berger is the man behind the whole thing – and it seems he previously launched an almost identical system in the past under the name of Six Figure Empire as shown below:

It looks to me like Tim Berger creates the scams & Tammy Montgomery promotes them for him – but regardless, I know that I for one will NOT be getting involved which brings me onto…
Is The Fearless Momma a Scam?
Yes, there's no doubt about it – in my opinion, The Fearless Momma is 100% a scam. I mean sure, like I mentioned several times throughout this review there is the potential to make money with it by suckering other people into the same scheme, but just because there is the potential to make money with something does not mean that it's not a scam.
The truth is that most people who sign up to The Fearless Momma to try & make money will fail to make anything at all. Instead, the only people who are really making money from it are the creators like Tim Berger or the expert marketers like Tammy Montgomery who know how to promote this sort of stuff to the masses.
The average person who has no experience of marketing will NOT make money with The Fearless Momma – and I would urge you not to try because even if you do make money it is just going to be at somebody else's misfortune. That's the problem with these pyramid schemes, everybody is passing money to each other but there is always somebody at the end losing out.
So it's safe to say that I do NOT recommend The Fearless Momma, and instead, if you really want to make good money online legitimately & morally then I suggest you stick with a proven platform like my top-rated platform here.
Alternatively, you can also check out these other bunch of great ways to make money online too.
But regardless whatever you decide to do I just hope that my review here has given you the insight into The Freedom Momma program that you were looking for & I hope it has helped you save your hard-earned cash.
Leave any further questions or comments below – I'll respond ASAP.
A Better Alternative
The sad truth is that unfortunately most of the programs promising to help you make money online are scams. I can say that confidently after exposing over 500+ of them here on this blog.
But the good news is that even though most of them are indeed scams, there are actually some very good programs in amongst them - some programs that can truly help you to earn money.
And out of all of the legit programs I've seen, the one I would recommend the most to anybody looking to get started online is Commission Academy. In my own opinion, that's the best place to start.
At Commission Academy, you'll be provided with everything you need (including the training & tools) to begin earning real money by promoting products or services for companies like Amazon online.
The best part is that there's literally no limit on the amount you can earn with it & the process is pretty simple which means that it's absolutely perfect for people that don't have much experience.
Some wealthy affiliates even earn as much as 5-figures per month... Or more!

I mean don't get me wrong, that kind of money won't just fall into your lap without doing any work... But the harder you're willing to work at it, the more you stand to earn with it.
So if you're looking to get started but don't know which route you should go down or which program you should join (and don't want to waste money on bogus things that don't actually work), then I'd highly recommend checking out Commission Academy first. You can learn more about it here.