The Smart Money system by Mark Foster claims to be an "idiot proof" system that can allegedly see you earning as much as $7,592.30 per day online all on complete autopilot, even if you've never previously made a single penny online before.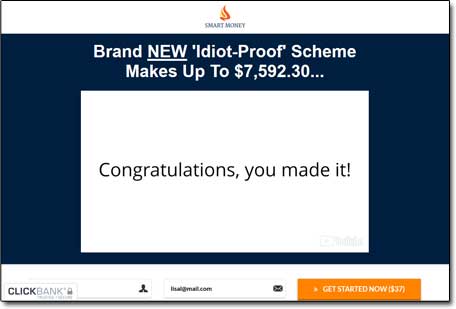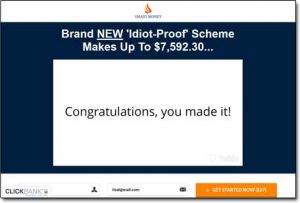 But obviously that's a pretty bold claim & as a result of no doubt you're pretty sceptical…
So what's the deal, is it really legit – or will the Smart Money system scam you & just leave you out of pocket rather than actually helping you make money?
Thankfully you've landed in the right place to find out as I've taken a closer look into the whole thing to see how it all works & in this honest review I'll be exposing the truth about it as well as outlining whether or not you can really make any money with it.
What Is The Smart Money System?   |   How Does The Smart Money System Work?   |   The One Positive   |   Is Smart Money a Scam?   |   A Better Alternative
What Is The Smart Money System?
Just like a typical get-rich-quick scam, the Smart Money system doesn't actually give too much away about itself or how it works. Instead, the website just prevents you with a video which really hypes up how quick & easy you can allegedly make money with it…
You're told that you're really lucky to have found the page and that you must have been invited by a close friend who apparently believed you would be a good match to profit from the system… But as you probably already figured out yourself, that's just BS.

The Smart Money website is actually available to visit by anybody & it's not "limited to invitees only" like its creator claims…
Anyway, the video then goes on to introduce you to its alleged creator, Mark Foster, and then Mark continues to give a hyped-up spiel about how it completely changed his life & how it can do the same for you.
It might sound ideal, but like I say you're given absolutely no information on how it all actually works or what you'll be doing. Instead, you're just pushed into handing over $37 to "find out more"…
But if you spend the $37 will you really make money as Mark promises? And how does it all actually work? Let's take a look…
How Does The Smart Money System Work?
After digging deeper I found out that the Smart Money system was actually just a re-hashed version of the Smart Money Methods scam which done the rounds about 6 months to a year ago…

So basically the first thing I can tell you is that the Smart Money system, just like it's predecessor the Smart Money Methods system is NOT going to really help you make money as it claims.
Instead, it will just leave you out of pocket – and not just by $37 either… The program features several upsells inside & it actually pushes you into signing up to several other scams too, such as the Paid Surveys At Home scam.
So How Does It Really Work – What's Going On?
Okay so basically the whole thing is just a trick to get you to part with your cash so that the creator who's behind the system can earn some money at your expense – and Mark Foster is NOT the real creator.
Mark Foster is just an alias that's being used to hide whoever is really behind the system – this way they can just launch it again using a new name in a few months time to escape the negative reviews & continue parting people with their hard-earned cash.
But anyway, basically in return for your money you do actually get access to some methods for making money online, but they are nothing secret or revolutionary – and there is no need to pay for them.
The methods include things like:
If you click on any of those links you'll see that I've already posted guides right here on this blog helping you get started with those methods, so like I say there's really no need to hand over $37 to the Smart Money system to find out about them.
Oh, and the chances of you making $7,592.30+ per day from paid surveys like the Smart Money system creator claims is total BS. That's just a stupid trick to get you to hand over your cash. Basically he (or she) is just trying to sell you in on the dream – but after signing up you'll just find yourself disappointed.
The only thing that'll see you earning anywhere near that kind of income is affiliate marketing or online trading which you can learn more about here – however, affiliate marketing takes work (so it won't happen as quickly or as easily as the Smart Money system creator makes out) and trading involves a lot of risks, so you might lose money rather than make it.
You Might Also Like:
The One Positive…
The positive thing is that the product is being sold through a 3rd party digital marketplace named ClickBank, and the reason I say this is positive is that ClickBank is usually fairly good at processing refunds if contacted directly… So if you've already bought into the Smart Money scam you should stand a fair chance at getting your money back.
I mean if you contact the creators of the Smart Money system directly they'll probably just ignore or refuse your withdrawal request… But like I say if you actually contact ClickBank themselves then you should be good.
But anyway that brings me onto…
Is Smart Money a Scam?
Well, you do actually get access to some money-making methods as promised, but some of them are actually scams, and none of them will make you money quickly & easily like the creator claims they will… Plus you can actually just access the methods for free right free.
So I mean from a technical point of view the system is not really an outright scam as such, but in my opinion, it is built on pure lies & deceit so I personally would call it a scam because you are just going to find yourself disappointed after handing over your cash.
Basically I won't be recommending it to you, put it that way – and if you really want to make good money online then you should just go with a legitimate & proven program like Commission Academy instead. It's there that you'll learn how to properly make money without the BS or the hyped-up claims.
But anyway whatever you decide to do I just hope that my review here has helped you out & hopefully it helped prevent you from losing some of your hard-earned cash to the Smart Money site. If you do happen to have any further comments or questions though then don't hesitate to leave them below & I'll do my best to get back to you as soon as I can.
A Better Alternative
The sad truth is that unfortunately most of the programs promising to help you make money online are scams. I can say that confidently after exposing over 500+ of them here on this blog.
But the good news is that even though most of them are indeed scams, there are actually some very good programs in amongst them - some programs that can truly help you to earn money.
And out of all of the legit programs I've seen, the one I would recommend the most to anybody looking to get started online is Commission Academy. In my own opinion, that's the best place to start.
At Commission Academy, you'll be provided with everything you need (including the training & tools) to begin earning real money by promoting products or services for companies like Amazon online.
The best part is that there's literally no limit on the amount you can earn with it & the process is pretty simple which means that it's absolutely perfect for people that don't have much experience.
Some wealthy affiliates even earn as much as 5-figures per month... Or more!

I mean don't get me wrong, that kind of money won't just fall into your lap without doing any work... But the harder you're willing to work at it, the more you stand to earn with it.
So if you're looking to get started but don't know which route you should go down or which program you should join (and don't want to waste money on bogus things that don't actually work), then I'd highly recommend checking out Commission Academy first. You can learn more about it here.