In this review I'm going to be taking a closer look at Survey Savvy which is a paid survey website that launched way back in 1999 & supposedly pays people in return for them sharing their opinions.
I'll be finding out if it's actually legit, whether there's any truth to the Survey Savvy scam rumours & most importantly whether it's actually going to be worth your time & how it stacks up against it's rivals.
So basically if you've been thinking about joining Survey Savvy you can rest assured that you've landed in exactly the right place to find out everything you need to know before you do. Plus I'm NOT an affiliate so you'll be getting an honest Survey Savvy review, not just some biased junk that's been put together by an affiliate who's only interest is to get you to sign up so that they can earn themselves a commission. 🙂
What Exactly Is Survey Savvy & How Does It Work?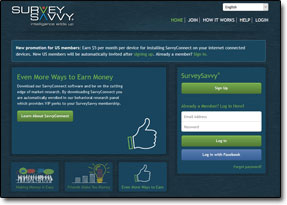 Survey Savvy basically acts as a middleman between companies looking for opinions (who are willing to pay for them) and people looking to make extra money (who are willing to share their opinion).
Basically when you sign up to Survey Savvy you'll be asked to complete a short profile and Survey Savvy will use the information you provide in your profile to match you to relevant surveys from companies who are looking for opinions from people that match your demographic.
You might not necessarily get immediate access to any surveys when you sign up but as soon as one becomes available Survey Savvy will send you an email asking you to participate in it.
It's worth pointing out though that each survey has an additional screening process at the start & you'll only earn money if you manage to pass this & then proceed to complete the main body of the survey.
Global Test Market on the other hand give you 5 points per survey even if you're kicked off at the screening process.
And there's no guarantee as to how many surveys you'll receive, if you receive at any at all – as this purely depends on your profile & what type of people the companies they're working with at the time are looking for.
Roughly though if you get a fairly decent amount of surveys (which is said to be around 2 per week) you could probably see yourself around $5 to $10 through this particular company alone.
And if you want to increase your overall earnings you could do that by joining multiple survey companies to get more surveys, some of which are listed below:
However it's worth mentioning that paid survey companies are renowned for paying poorly in return for your time so even if you become a member of several companies it'll be unlikely that you'll be able to make anything substantial. As a member of multiple companies you could probably see yourself earning around $50 per month which isn't bad for a bit of extra cash but if you're considering paid surveys as a "job" then just be aware that you'll be hard pushed to generate anything that even comes close to a part-time income.
If you are looking for something that you could start in your spare time & potentially take full time then you could consider starting a blog or getting into affiliate marketing instead. Those are 2 excellent alternative ways to build a "real" income online.
So Is Survey Savvy a Scam or Legit?
I can confirm that Survey Savvy is indeed legit, they launched way back in 1999 & are one of the few survey companies that has actually been recognized as a BBB Accredited Business.
Survey Savvy is completely free to join & once you've earned over $1 in incentives you'll be able to request a payment. Whilst they do boast one of the lowest withdrawal limits in the paid survey industry the downside is that they currently only send payments out via check through US mail (which is kinda outdated).
Additional Ways To Earn With Survey Savvy
There are 3 additional ways you can boost your income with Survey Savvy – one of which is quite innovative & is something that I haven't seen at any of the other paid survey companies I've reviewed.
Firstly you can generate more money by referring other people into Survey Savvy through a unique link that you'll find inside of your members area. All you need to do is share the link with family, friends whoever & you'll earn incentives when they too complete their surveys. You'll also earn incentives on the 2nd tier too, so if your direct referrals also go on to refer people as well then you'll get incentives when they complete their surveys as well which is pretty cool.
On top of that Survey Savvy also have a desktop application that you can download named SavvyConnect. You don't have to download the program to participate in the surveys but if you do download it then they'll gather market research data & build up a better profile on you as you browse the internet which can potentially see you getting offered more surveys.
Obviously some people will be worried about privacy with the SavvyConnect which is why I want to stress that it's not required to earn from the surveys as normal, but it is there as an option if you want to try & increase the amount of surveys you're getting. Plus if you want to do some private browsing the software is supposed to automatically disable itself when you hit the "Private Browsing" mode in your browser.
And finally Survey Savvy also run regular sweepstakes & contests where you can get yourself entered into prize draws by completing various tasks. The tasks vary but typically include things like creating videos or jingles where the best picked takes around $500 in cash.
Should You Join Survey Savvy? My Verdict
Well it's free & it's legit so there's certainly no harm in giving it a try, but don't expect to earn any kind of life-changing income. Whilst Survey Savvy is one of the higher-paying paid survey companies out there unlike Global Test Market they won't credit you anything if you get kicked off a survey half way through which can be pretty frustrating.
The other thing I don't really like about Survey Savvy is the fact that in 2017 they're still only processing payouts via check which kinda sucks – I've seen several reports of people saying it takes quite a while to arrive & others saying their payouts have been lost altogether which is a bit of a worry. With Survey Savvy being a BBB Accredited Business I'm sure they would rectify it & make sure you got paid but it's a bit of an unnecessary mess around when most other companies these days are paying out directly through PayPal etc.
However on the plus side Survey Savvy offer an awesome referral program which pays over 2 tiers, so if you have plenty of friends that you think might be interested in Survey Savvy then you could potentially earn a nice little chunk of money from this alone.
So yeah overall it's a thumbs up for Survey Savvy – they're definitely legit, they're well-paying, they provide fairly frequent surveys (for me personally). The only issues I have are the ones mentioned above but it's definitely a company worth trying out if you're into your paid surveys.
Again though as I mentioned above if you are looking for something that you could  & potentially take full time then you could consider starting a blog or getting into affiliate marketing instead. Those are 2 excellent alternative ways to build a "real" income online which will ultimately pay more than paid surveys in the long run.