The Knowledge Society is one of Tai Lopez's latest creations & it promises to provide you with unlimited access to entrepreneurial & career development courses in return for just a small fixed monthly fee…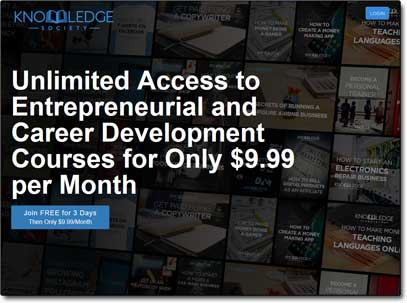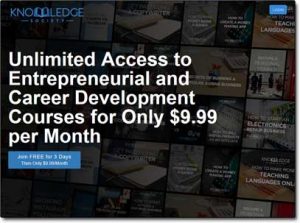 The program will allegedly enable you to improve your life by giving you the opportunity to learn directly from recognized experts who have real-world experience and success doing what they show you… But is it really legit? Or is the Knowledge Society a scam that'll just see you wasting your money?
Thankfully you've landed in the right place to find out as I've taken a closer look into how it all works & in this review I'll be uncovering the real truth about Tai Lopez's new program including whether or not it will really help you find success.
What Is The Knowledge Society?   |   How Does The Knowledge Society Work?   |   Is The Knowledge Society Legit?   |   A Better Alternative
What Is The Knowledge Society?
The Knowledge Society is Tai Lopez's attempt at creating what he calls "the Netflix of business". He said in one of his YouTube videos that he wants to create a place where people can get instant access to a wealth of entrepreneurial content on demand, just like you get movies on demand from Netflix.
If you take a look at the images below you can see that the website itself is even quite similar to that of Netflix:

So the idea is that just like you can access to movies on Netflix, you'll be able to get access to self development/career development courses taught by experts in the hope of improving your life & wealth.
All you need to do is sign up for a small fixed monthly fee & in return you'll get access to all of the content available on the site… No hidden upsells & no additional charges, just genuine transparency.
And the stuff you'll be able to get access to include things like:
How To Become A Personal Trainer
How To Sell T-shirts On Facebook
How To Start A Profitable Hair Salon
How To Make More Money As An Uber Driver
How To Start A Mobile Car Wash Business
How To Make Money Being A Gamer
How to Start an Electronics Repair Business
…along with many more.
Already there are hundreds of titles inside of the Knowledge Society & Tai Lopez claims that he will be continually adding more & more content as time goes on to keep up the value of the membership.
In my opinion for a mere $9.99 per month it is DEFINITELY worth the value & I am even considering becoming a member myself. Even if I am just watching the videos to kill some boredom in my downtime, I feel it is better to watch something that will help me develop my business & myself as a person than to just put on the latest action movie or something that won't really give me any benefit…
Oh and I'd also like to point out that it's absolutely definitely not a scam. For some reason whenever Tai Lopez launches anything a lot of people jump on it and call it a flat-out scam… Many even call Tai Lopez himself a flat-out scammer but it's simply not true.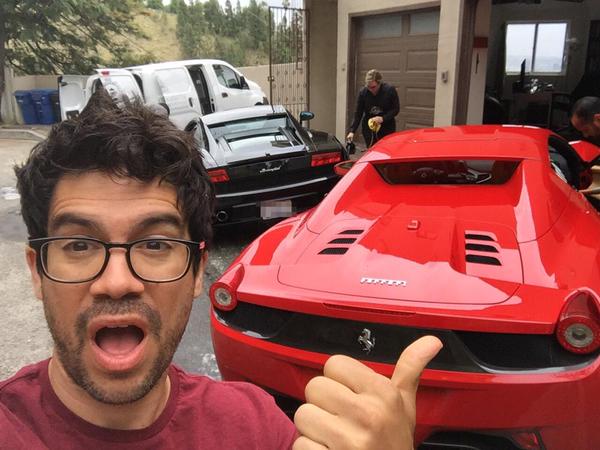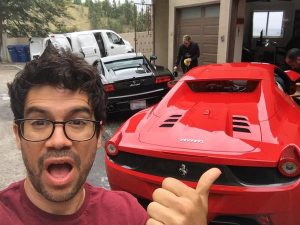 He make a lot of YouTube videos & in his videos he shows his wealth. You see his mansion, you see his luxury cars – and people call him out. They say the mansion is rented & that so are the cars… Either way, even if he was renting them though (which I don't think he is) he'd still have to be earning a ton of cash to do. Personally I think those people hating on him are just jealous of his success.
Rather than joining something like the Knowledge Society & building something of their own, they just call him out to try & bring him down…
As the saying goes, haters will hate! But in my review of Tai Lopez I came to the conclusion that he was actually a pretty good guy. When you really take a look into his businesses he gives a LOT of value away, and a lot of it is even given away for free.
That's likely why he has found so much success in his life – because once you learn to forget about the amount of money you want to make & actually focus on giving away value & helping people, that's when you start to make real money.
Anyway…
How Does The Knowledge Society Work?
The Knowledge Society program is actually pretty straight forward – it's basically just a membership site, so once you've subscribed for the small monthly fee of $9.99 (which you can cancel at any time) you'll get access to the members area.
Inside of the members area you'll be able to browse all of the titles found inside of the Knowledge Society & pick which course you want to go through. The courses are videos & the good news is that you can watch them on any device, so you could sit & watch them on your PC or watch them on the move from your mobile.
Also another good thing is that the members area keeps track of what it was you were watching & how far into it you were so you can easily pick up where you left off when you come back to the site.


It really is just like Netflix…
You can even earn a certification through some of the courses which you could include in your CV or resume to assist you in getting a job, or you could show it to your current employer to try & progress further in the company.
Obviously though it's not all about employment either – a lot of the courses are geared towards setting up your own business… So you could learn how to start an IT support business, or a mobile car wash, or basically pretty much just about anything you could think of…
Here's what Tai Lopez himself states that you'll learn through his Knowledge Society website:

And by the way, Tai Lopez also has several other similar programs to the Knowledge Society which you might also be interested in such as his Social Media Marketing Agency program, the Bitcoin Crypto Academy & the Entrepreneur Starter Kit.
You Might Also Like:
Is The Knowledge Society Legit?
The Knowledge Society is absolutely 100% legit & in my opinion it's a pretty darn good deal for just a mere $9.99 per month… Like I mentioned earlier in this review I'm even thinking of maintaining a subscription myself.
I really like the idea of easy access to all this great content and it would be a fantastic way to kill some time yet do something productive at the same time – you're enjoying yourself, but also learning…
So the Knowledge Society will definitely be getting a thumbs up from me but to be honest I've gave all of Tai Lopez's programs a thumbs up because he is a guy that just always comes through with solid value. Whenever you hear that he has launched a product you can assume that it's going to be good before you've even seen it.
If you do happen to have the money to spare to invest in the Knowledge Society and you are serious about starting a business then I would also suggest you take a look into Commission Academy too. The Knowledge Society will give you a lot of information about how various people have found success, but the Wealthy Affiliate program will give you everything you need to actually achieve success.
Anyway I'm gonna wrap it up there but hopefully you found my review of the Knowledge Society here pretty insightful & if you do happen to have any further questions or comments then don't hesitate to leave them below.
A Better Alternative
The sad truth is that unfortunately most of the programs promising to help you make money online are scams. I can say that confidently after exposing over 500+ of them here on this blog.
But the good news is that even though most of them are indeed scams, there are actually some very good programs in amongst them - some programs that can truly help you to earn money.
And out of all of the legit programs I've seen, the one I would recommend the most to anybody looking to get started online is Commission Academy. In my own opinion, that's the best place to start.
At Commission Academy, you'll be provided with everything you need (including the training & tools) to begin earning real money by promoting products or services for companies like Amazon online.
The best part is that there's literally no limit on the amount you can earn with it & the process is pretty simple which means that it's absolutely perfect for people that don't have much experience.
Some wealthy affiliates even earn as much as 5-figures per month... Or more!

I mean don't get me wrong, that kind of money won't just fall into your lap without doing any work... But the harder you're willing to work at it, the more you stand to earn with it.
So if you're looking to get started but don't know which route you should go down or which program you should join (and don't want to waste money on bogus things that don't actually work), then I'd highly recommend checking out Commission Academy first. You can learn more about it here.