The Cannabis Wealth system has allegedly been launched by a man named Jacob Walters & it promises to provide you with an easy way to cash in on legalized cannabis stocks through some sort of so-called "NASDAQ loophole"…
But it boasts some extremely over-hyped & suspicious claims, such as the claim that it can generate you $1,838 instantly, and the claim that you'll be guaranteed to 100x your current income… So what's the truth? Does it really work as promised? Or is Cannabis Wealth a scam that's actually just set out to part you with your cash to make its creator wealthy at your expense instead?
Thankfully you've landed in exactly the right place to find out as I myself have personally taken a closer look into the Cannabis Wealth system & in this honest review I'll be uncovering the REAL truth about how it all works – as well as outlining whether or not you can really make any money with it. So keep reading to find out everything you need to know. 🙂
What Exactly Is The Cannabis Wealth System?
Basically in short the Cannabis Wealth system is something that portrays itself as being able to help you make a whole load of money from the stock markets surrounding the legalization of cannabis, all pretty much on complete autopilot…
So you're essentially led to believe that you can just sign up & make a ton of cash… Which frankly isn't true.
In fact I hate to be the one to burst the bubble but I can tell you right from the off here that the Cannabis Wealth system is actually nothing but a scam – and I can say that so confidently because I've seen the exact same thing before launched under several different names.
Cannabis Craze, Cannabis Software & Cannabis Trader are just 3 of the many names I've previously seen this thing launched under – and they all work (or should I say don't work) the exact same way.
I'll explain more on that in just a moment & show you what's really going on, but first I want to point out that there is really no such thing as money for nothing… So if something promises you lots of easy money with little to no work or risk (like the Cannabis Wealth scam) then you should run a mile.
I mean yes, sure it's possible to make a full-time income online (and even a very substantial income online) but it will not come without work & dedication… I can tell you that honestly after many years of working online myself.
The good news though is that if you are prepared to put in the work that's required to make it happen then there are plenty of legitimate places where you can actually get started & achieve true success, like Wealthy Affiliate for example.
But I do appreciate that you might have been really hoping that the Cannabis Wealth system was going to work for you & I also appreciate that you may not be just willing to take my word for it when I say it's a scam… So instead keep on reading below & I'll show you exactly how it all really works so that you can see first-hand for yourself what's actually going on. 🙂
How Does The Cannabis Wealth System Work?
In short the Cannabis Wealth system is just a ploy to trick you into handing over your cash so that the creator (who isn't really named Jacob Walters) can earn at your expense – and there isn't really any "NASDAQ loophole" or anything of the sort on the other side.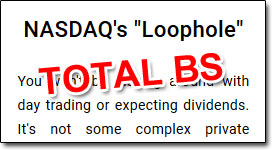 That's why if you scroll down the Cannabis Wealth website you'll notice that there's no company name, no address & no license – all things that legitimate investment/trading related websites are required to display by law.
The Cannabis Wealth website is basically just a churn & burn website that has been setup to trick you into making a deposit with an unregulated binary options broker that the creator of the system is affiliated with.
They've basically just piggybacked the system onto the current cannabis trend in an attempt to make you think that it might actually be legit… Just like they did last year with Bitcoin & other cryptocurrencies.
So the process looks somewhat like this…
You're told that you can make an easy fortune through cannabis investing on the Cannabis Wealth website.
Then after entering your details you're told that you simply need to deposit $250+ with a broker that they "recommend", and that once you do you'll get access to their system which will make you money on autopilot.
However it is after this point that you'll be left to find out the hard way that the system doesn't actually work as promised at all, and that instead of making profitable trades like you're told it will all it will actually make is losses.
But Admittedly The "Trap" Is Very Clever
The way these types of scams work is actually very clever & it's easy to see how unsuspecting victims end up getting caught out by them. In fact they're so clever that they often even catch the people out have also have the assumption that they're scams…
So how do they do that?
Well they do it by portraying themselves as risk-free – and by making you feel like you can just "try it out" & then withdraw your funds back out if it doesn't turn out to work as promised.
They make you think that you can just deposit with the broker that they "recommend" and then simply withdraw your funds back out from them if it doesn't turn out to make you money… But that's not the case.
What they fail to tell you is that the creator of the Cannabis Wealth system is actually associated with the broker that they "recommend", which means they're getting paid a commission when you make a deposit… And what they also fail to tell you is the brokers they "recommend" are generally unlicensed rogues that'll make it next to impossible for you to get your money back.
In fact the only way I've seen people successfully manage to get their money back from these scams is by filing a chargeback.
So basically whilst it might seem "risk-free" on the surface, in reality it is 100% risk & any money you deposit will likely be as good as gone, so therefore the simplest solution is to simply just avoid the whole thing.
Let's Take a Look At The Lies
First of all, there's the countdown timer at the very top of the page which reads something along the lines of "Just 06:36.3 until the prices drop – HURRY!"… But a simple refresh of the page starts the countdown timer again, so clearly it's a fake.

The real reason they're using this fake timer is just to attempt to rush you into signing up – to make you feel like you don't have time to look for reviews – because they know if they give you time to do that, you'll almost certainly find out it's a scam.
Then there's the list of commercial channels that the Cannabis Wealth system claims to have been featured on (as pictured below):

However a quick search of those websites revealed that that's just yet another lie… They're just hoping that you'll take their word for it & won't bother to do your due diligence… But unfortunately for them, I checked it out.
And finally in among all of the other lies on the Cannabis Wealth website there's the so-called CEO, Jacob Walters – who's also a phony.
The reason I know that is because the image they've used on their website has actually been pulled from the website of a law firm as shown below:


And that brings me nicely onto…
My Verdict – Is Cannabis Wealth a Scam?
Yes, there's absolutely no doubt about it – the Cannabis Wealth system is definitely a scam & the sole reason it has been setup is to attempt to part you (and many others) with your cash so that the creator can get wealthy at your expense.
There is simply NO way that you will make money as a result of going through the Cannabis Wealth program & instead you will just end up losing it – the whole thing has been built up on entirely on lies & deceit & it hands-down does not work as promised.
Like I mentioned earlier in this review though there are indeed actual legitimate ways that you can make money online – it's just there are no ways (and never will be ways) for you to make lots of money without having to do or risk anything. If you truly want to make money online then you must be prepared to put in some work to make it happen.
The good news though is that if you are prepared to put in the work then there are proven places like Wealthy Affiliate where you can get started for free – and it's there that you'll get everything you need to see solid success.
On top of that there are also all of these other great ways to make money too.
But ultimately whatever you decide to do, I just hope that my honest review of Cannabis Wealth here has given you a good insight into how it all really works & more importantly I hope it has helped you to save your cash.
If you do still happen to have any further questions or comments about it though then of course don't hesitate to leave them below & as always I'll do my best to respond to you as soon as I can. 🙂