The Funnel X Project system has recently been launched by a guy named David Dekel & it promises to help you generate as much as $300 per day online with absolute ease… But that's a pretty bold claim to say the least.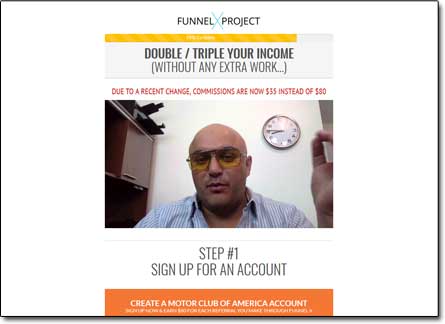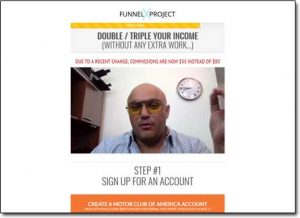 So this honest Funnel X Project review is going to cover how it works, the claims it makes, and the facts about the system. I've already reviewed a number of systems making similar claims but not all are absolute scams. Admittedly most of them don't offer as much profit as promised but to call a system a full-blown scam requires concrete evidence.
If you're interested in trying this system from David Dekel you're probably wondering is it actually legitimate or will Funnel X Project scam you? As usual, I'll walk you through the various interesting facts about this system but first of all, I want you to know what this system claims.
What Is Funnel X Project?   |   How Does Funnel X Project Work?   |   The Compensation Plan   |   The Problem   |   Can You Make Money?   |   Is Funnel X Project a Scam?   |   A Better Alternative
What Is Funnel X Project?
Funnel X Project is a platform which associates itself with the Motor Club of America and Money Line programs – at least it apparently looks so. Both of these businesses follow an MLM model and it also pushes AWeber, ClickMagick and Udimi as products/services that you must purchase to achieve the full potential from the opportunity.
The Funnel X Project system offers affiliate commissions. Upon visiting the website, you're encouraged to join the members' area where you can sign-up with Money Line as well as Motor Club of America. The next step is to get your affiliate links and promote the products through the Funnel X Project system.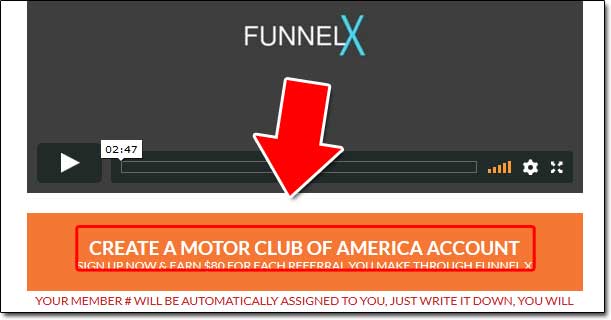 In short, you're told there is no need to build your own website or blog to make the affiliate links work. You can rely solely on the Funnel X Project system to attract subscribers. What happens is, upon joining, you basically will be looking to get more and more individuals join Funnel X project just the way you did yourself.
It kind of works in the same way MOBE did but that was recently shut down by the FTC because they came to the verdict that it was essentially just a pyramid scheme.
Basically you earn commissions against the sales finalized by the members you successfully bring to join this program. The whole process is fairly simple. You sign-up with MCA and MoneyLine, as well as the additional tools/services that I mentioned above, then you get your affiliate links and use this links via the Funnel X Project system.
Through this system, you'll be promoting the one link and you'll have the potential to earn commissions from sales made through your affiliate link of all the programs that you've connected up.
How Does Funnel X Project Work?
If you concentrate on the proceedings, you'll realize that you're joining the MoneyLine and other companies through David Dekel. You should know that creating a free account doesn't serve any real purpose. There are different levels of membership which begin from $20 (Bronze Membership) to end at $500 (Diamond Membership) with three membership plans in between.
The free membership is essentially just a teaser to get you in & then from there you'll be pushed into investing some money.
Compensation Plan
In the beginning, you don't get anything for the first couple of successful referrals.
After your first couple of successful referrals (which you didn't earn anything for) you'll start earning 100% commissions for each successful referral afterwards.
Keeping the subscription prices in mind, you can earn anything from $20 to $500 (depending on the plan selected by the subscriber).
As far as the levels below are concerned, your earn 50% commission down to level 2 (excluding first two referrals).
Ultimate the whole thing follows a similar structure to the one shown below: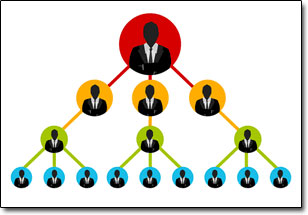 The package is highly attractive but does it really work out as promised? In other words, is Funnel X Project legitimate?
Sadly The Reality Isn't Quite So Great…
The opportunity looks really good and it promises sufficient commissions but what may stop you from purchasing this offer?
The system is primarily focused on recruiting rather than the sales to real customers
Sales don't have any impact on your commissions so they are not encouraging sales because you can earn good commissions from recruiting alone
The law says that if an MLM model focuses more on recruitments then it is not legitimate
In this case, the law could force them to shut down at any moment in time – and it could result in losing your entire investment because you will not know when it's going to happen. It has happened with scores of MLM based systems before. If you purchase a plan and then come to know that the program has been terminated, your money is gone forever and there's nothing you can do to even bring your initial investment back, let alone the commissions.
After MoneyLine, you also have to subscribe with Motor Club of America. Here, you'll find that the company does offer legitimate products which you can sell. It means that, at this stage, you're actually participating in a more legitimate program which involves selling products to real buyers.
The suggested plan with Motor Club of America is the $19.95/month Total Security plan
You earn commissions from sales as well as from recruiting
Apart from this, there are some other products which you can promote through Funnel X Project but I don't want to go into details. The promotion of Udimi, ClickMagick, and AWeber requires more and more traffic and you somehow need to purchase ads. Using ads to bring in traffic will surely cost you more than expected.
Is Making Money As Easy As Promised?
A big NO! On paper, it feels really sweet to think about somewhere between $20 to $500 and $10 to $250 but in reality, doing this is as tough as crossing the Sahara desert on foot. It requires exceptional digital marketing skills along with top-notch communication skills. If you haven't done it before or you don't have the relevant background, I'll recommend you to think twice before joining something like this.
You Might Also Like:
Is Funnel X Project a Scam?
It would be pretty harsh for me to call the Funnel X Project a scam, because ultimately it does provide you with a way to actually make money… It's just that it's nowhere near as easy as it seems & it way too closely resembles a pyramid scheme.
Ultimately you will be signing up, investing in a whole bunch of programs & then getting others to do exactly the same. You then earn commissions at your expense & they will then go on to do the same.
The problem though is even if you were willing to join up to such a scheme knowing that it may get shut down at any moment in time by the law, how are you going to promote the system to others? If you're a newbie you'll probably struggle as the training inside isn't very in-depth & that's why I won't be recommending it.
If you sign up to the Funnel X Project & you are not an expert at marketing you will probably end up spending more money than you manage to make back.
So instead if you really want to make good money online but you don't want the risk, or you don't want to buy into a whole bunch of different programs I'd recommend you just look into Commission Academy instead. It's there that you'll get the proper training & tools you need to find success & you can even get started there for free.
But like I say there is just no way I can recommend the Funnel X Project to you because I don't feel like you'll get any real value from it & as far as I'm concerned there are much better ways to make money online. Hopefully though after reading my review here you can see why I've come to that conclusion.
If you do still happen to have any further questions or comments though then don't hesitate whatsoever to leave them below – as always I'll do my best to respond back to them as quickly as I can.
A Better Alternative
The sad truth is that unfortunately most of the programs promising to help you make money online are scams. I can say that confidently after exposing over 500+ of them here on this blog.
But the good news is that even though most of them are indeed scams, there are actually some very good programs in amongst them - some programs that can truly help you to earn money.
And out of all of the legit programs I've seen, the one I would recommend the most to anybody looking to get started online is Commission Academy. In my own opinion, that's the best place to start.
At Commission Academy, you'll be provided with everything you need (including the training & tools) to begin earning real money by promoting products or services for companies like Amazon online.
The best part is that there's literally no limit on the amount you can earn with it & the process is pretty simple which means that it's absolutely perfect for people that don't have much experience.
Some wealthy affiliates even earn as much as 5-figures per month... Or more!


I mean don't get me wrong, that kind of money won't just fall into your lap without doing any work... But the harder you're willing to work at it, the more you stand to earn with it.
So if you're looking to get started but don't know which route you should go down or which program you should join (and don't want to waste money on bogus things that don't actually work), then I'd highly recommend checking out Commission Academy first. You can learn more about it here.