The Mobile Money Loophole system (found at collectmobilemoney.com) promises to provide you with access to a so-called "little-known" income generator that people are allegedly referring to as the "Mobile Money Loophole"…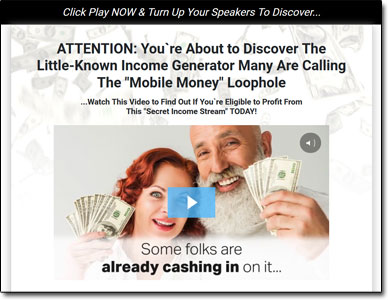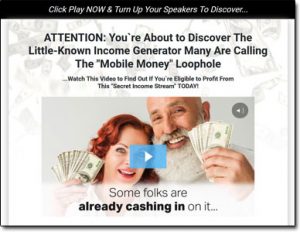 You're led to believe that via the site you'll be getting access to what they call a "secret income stream", but in order to actually get access the creator requests $97 of your hard earned cash… So what's the truth? Is it really legit or is Mobile Money Loophole a scam?
Thankfully you've landed in exactly the right place to find out as I myself have personally taken a closer look into this new system to see exactly how it works (and if it works) and in this honest review I'll be uncovering everything you need to know – including whether or not you can actually make any money with it after all.
What Is Mobile Money Loophole?   |   How Does Mobile Money Loophole Work?   |   Can You Really Make Money With It?   |   Is Mobile Money Loophole a Scam?   |   A Better Alternative
What Is Mobile Money Loophole?
Essentially the Mobile Money Loophole system portrays itself as being some sort of automated way of making money online & it leads you towards believing that you'll just be able to sign up, "plug-in" and begin making money without really having to do anything, all through some sort of "loophole".

But the first question you should be asking yourself is whether or not it's actually legal…
I mean by definition a loophole is "an ambiguity or inadequacy in the law or a set of rules", so it very unlikely to be legal… And if that's the case then even if you could make money with it, do you really want to be doing something illegal? I hope not!
But let's say you don't care… Can you actually make any money with it?
Well the short answer is you can, but you almost certainly won't – and the reason for that is because the Mobile Money Loophole doesn't really actually have anything to do with a loophole or secret income source at all.
Instead the Mobile Money Loophole website is actually just a "trick" to get you to sign up to a training program called My Ecom Club which costs thousands of dollars – and despite it costing thousands of dollars, 93% of people who responded to their survey generated less than $500 in sales since launching their store.

So most people who sign up to My Ecom Club end up LOSING money, not making it – which is why it's received so many complaints… And it's because of those complaints that the creator has decided to setup these "trick" websites like Mobile Money Loophole to get people to keep signing up to it.
You see if you search for My Ecom Club reviews you'll find a load of bad ones no doubt, so to try & escape the negative reviews the creator has been launching "doorway websites" under different names, such as Biz Building Blocks & the Real Estate Retirement Plan.
Despite the different names & slightly different appearances, they all eventually lead their visitors through into My Ecom Club… But what exactly is My Ecom Club? Well keep on reading & I'll explain how it all works & why you likely won't make any money with it below…
How Does Mobile Money Loophole Work?
So as I mentioned above in this review the Mobile Money Loophole system isn't really a system it all – it's just serves as a "doorway" into a training program named My Ecom Club… And there is no "loophole" or "secret income source" either… All that's just total BS.
This means that if you were to watch the Mobile Money Loophole video & then pay the $97 to sign up (which I don't recommend doing), what you'd actually find out is that you've bought into My Ecom Club.
That's why there's no specific mention of exactly "what" system you'll be buying into on the checkout page as shown below: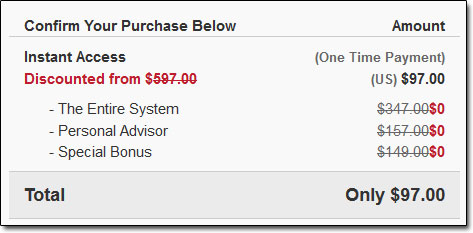 Instead it just says "the entire system" and that's how the creator is getting away by tricking you into signing up for My Ecom Club instead.
But what is My Ecom Club & how does it work? And can you make any money with it?
Well in short My Ecom Club is a training program that teaches a method of making money online known as dropshipping – but with costs of over $1,997 it's a pretty darn expensive training program to say the least.
What I'll point out here though is that the method of making money that it teaches is indeed actually legitimate – however whilst the method is legitimate, I personally have some concerns over the training itself.
The reason I say that is because in my opinion I believe that the course has been designed more to take money from people (so that the creator can get rich) rather than actually help people to make money.
I also believe that that's why the creator is going to the extreme lengths of creating all of these "doorway websites" to trick people into buying it – such as Mobile Money Loophole, Real Estate Retirement Plan & so on.
And the whole "private coaching" thing also raises some concerns as well, because the so-called "coaches" are not actually coaches at all… They're just sales people that have been employed to make you believe they're coaches in order to get you to upgrade to the higher levels.
Other programs like MOBE & Digital Altitude both offered similar "coaches" but they were unsurprisingly shut down by the FTC. I therefore personally imagine that it won't be too long before My Ecom Club is shut down by the FTC as well.
You Might Also Like:
But Can You Make Any Money With It?
Well the truth is that yes, you can actually make money with dropshipping – but I'll be honest, dropshipping is not one of my recommended ways for making money online (especially if you're new & just getting started).
Why's that?
Well dropshipping basically involves selling physical products online through sites like Amazon & Shopify – however the "trick" with dropshipping is that you don't actually hold stock yourself, instead you have the products shipped to the customers directly from the suppliers.
On the surface this seems great because not only does it mean you don't have to fill up a room in your house with stock, but it also means that you don't actually have to buy the products until you sell them…
Win-win right? Nope, not really…
Dropshipping is actually pretty darn risky, since you're relying entirely on the suppliers. This means that if the suppliers run into an issue & the customer doesn't get the product (or doesn't get it on time), you could end up out of pocket as you find yourself having to cover the refund out of your own cash.
Not only that, but because of the way most dropshipping sites are built they often require paid advertising as the means of promotion in order to stand any real chance of success… But paid advertising is not an easy thing to master, and unless you have a budget of $5,000 to burn through then you may as well forget about paid advertising altogether.
So yes you can make money with it – but it's risky & could be very costly too… And frankly there are MUCH better (easier & cheaper) alternatives like affiliate marketing that you can get started with instead.
With affiliate marketing you don't have to mess around with stock at all, you don't even have to talk to customers or try to sales… And one of the best things is that you don't have to deal with refunds.
With affiliate marketing all you need to do is connect people with the products or services they're looking for – and if you do that & then they go on to make a purchase, then you get paid a commission in return.
So as an example you could become an affiliate of Amazon & if you did then you'd get your own unique link to their products which you could share online. If somebody then clicked that link (as shown below) and went on to buy something, you'd get paid.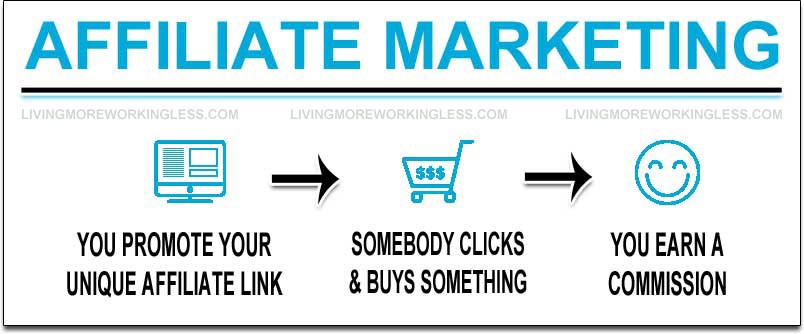 The other great thing about this is that you can actually leverage the brands reputation… So if you were to build a dropshipping business you'd be starting from the ground up & would have to get people to trust you… But when you're promoting big name companies like Amazon, people already trust them which means they'd be way more likely to buy something.
Plus on top of all that, you can even get started with affiliate marketing for free at Wealthy Affiliate (so no need to pay $1,997+ like you would have to in order to get started with the My Ecom Club program).
Oh and just in case you're wondering where I pulled the $1,997 figure from – it was from a comment by a My Ecom Club in their Facebook group (as shown below):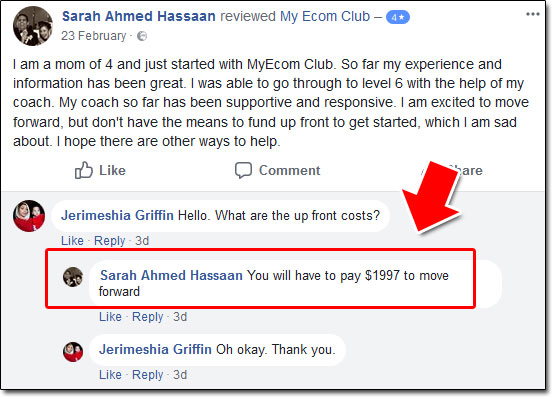 And whilst Sarah says her experience has been great, many others seem to disagree as highlighted by the complaints below: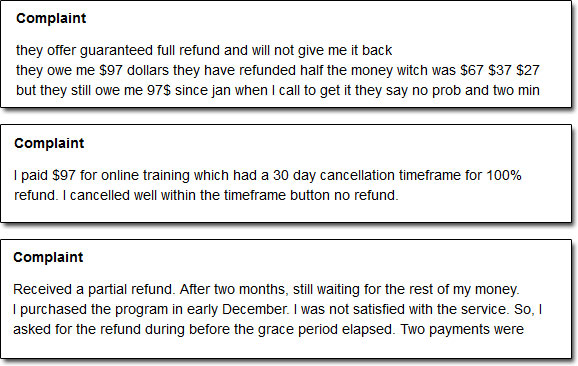 I mean if it truly provided a way for people to make money so easily & so quickly as the video claims it does on the Mobile Money Loophole website then clearly none of these people would be asking for a refund…
Which brings me onto…
Is Mobile Money Loophole a Scam?
Well the truth is that the Mobile Money Loophole system isn't actually a system at all – and nor is there are any "loophole" or "secret income source" like you're led to believe… Instead the whole thing is just a trick to get you to sign up to an expensive (and questionable) ecommerce training program named My Ecom Club.
Do I believe that is a scam? Well, you do get access to some legitimate training – however it costs over $1,997 to progress with it & according to their survey 93% of members made less than $500 since starting their store… Compare that against the sales material (which pretty much says you'll make easy money) and in my opinion yes, I do believe it to be a scam.
It seems that instead of being set out to truly help the members make money like it claims to be it's actually just set out to make its creator rich at their expense instead – which means I will definitely NOT be recommending it.
And like I said earlier in this Mobile Money Loophole review if you truly want to find success online I suggest you go with affiliate marketing instead, which is much easier & you can get started with it for free at Wealthy Affiliate.
Or alternatively you could check out other legitimate methods for making money on my top picks page – but basically dropshipping (the method taught via the My Ecom Club program – aka Mobile Money Loophole) is not one of my recommended methods.
Whatever you decide to do though I just sincerely hope that my review here has given you a good insight into how this program truly works & more importantly I hope it has helped you to save some cash. If you do still happen to have any further questions or comments though then don't hesitate to leave them below & as always I'll do my best to get back to you as quickly as I can.
A Better Alternative
The sad truth is that unfortunately most of the programs promising to help you make money online are scams. I can say that confidently after exposing over 500+ of them here on this blog.
But the good news is that even though most of them are indeed scams, there are actually some very good programs in amongst them - some programs that can truly help you to earn money.
And out of all of the legit programs I've seen, the one I would recommend the most to anybody looking to get started online is Commission Academy. In my own opinion, that's the best place to start.
At Commission Academy, you'll be provided with everything you need (including the training & tools) to begin earning real money by promoting products or services for companies like Amazon online.
The best part is that there's literally no limit on the amount you can earn with it & the process is pretty simple which means that it's absolutely perfect for people that don't have much experience.
Some wealthy affiliates even earn as much as 5-figures per month... Or more!

I mean don't get me wrong, that kind of money won't just fall into your lap without doing any work... But the harder you're willing to work at it, the more you stand to earn with it.
So if you're looking to get started but don't know which route you should go down or which program you should join (and don't want to waste money on bogus things that don't actually work), then I'd highly recommend checking out Commission Academy first. You can learn more about it here.