The Traders Education website claims to help you learn how to trade with confidence & promises to provide you with access to trading specialists that will allegedly help you set up everything you need to begin profiting.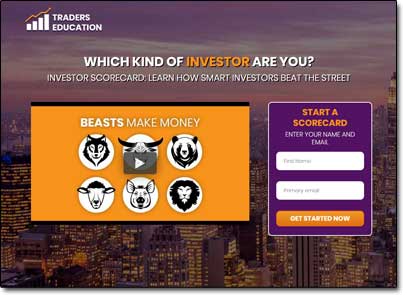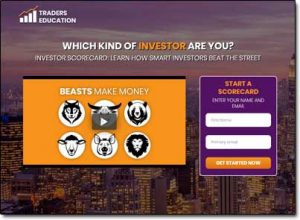 You're led to believe that there'll be minimal risk & that you'll learn proven methods for picking winners through various opportunities such as stocks, Forex, options etc…
But is it really legit? Or is the Traders Education a scam that'll just result in you losing money as opposed to making it?
If that's what you've been trying to find out then good news, you've landed in exactly the right place – I've taken a closer look into how it all works & in this honest review I'll be uncovering the truth about the Traders Education platform.
Plus I'll also be revealing whether or not you can really make any money with it.
What Is Traders Education?   |   How Does Traders Education Work?   |   Fake Trading Scorecards   |   Lack of Contact Details   |   Is Traders Education a Scam?   |   A Better Alternative
What Is Traders Education?
The Traders Education website portrays itself as a platform through which you'll be able to connect with trading specialists & learn how to trade profitably online in your spare time, with the potential to generate a full-time income.
It seems to be specifically geared towards people who are absolutely brand new to trading & it supposedly covers various aspects of trading such as:
Trading Stocks
Investment Funds
Forex
Commodities
Indicies
Options
But the first thing you must do in order to progress via the site is create what they call a traders scorecard, which if you haven't done so already I don't recommend doing (more on that later).

The traders' scorecard, as the name suggests, is said to be designed so that the trading specialists involved with the system can get a better idea as to what level of experience you already have.
The questionnaire you must complete in order to get your scorecard asks various questions such as if you've ever traded before, how old you are, your employment status & most importantly how much you're able to invest.
But sadly this information isn't going to be used to best help you – instead it's going to be used to see how much they can take from you.
Yup, that's right – take from you – because the creators of the Traders Education site are not really interested in helping you trade profitably, they just want to sign you up & get you to deposit with as many brokers as possible so that they can earn themselves commissions at your expense.
The guys behind it are no different to the binary options scammers, and you'll see why when I show you how it all works below…
How Does Traders Education Work?
Okay so at a glance the Traders Education website looks pretty interesting & it could quite easily get you excited about the potential of being able to make lots of money – especially if you're new to trading online.
But getting you excited is exactly what they want to do because in reality the whole thing's just a ploy just to part you with your cash, and that's the reason they ask so many questions about your job, your age & how much cash you have to invest etc…
The truth is there are no "trading specialists" behind the scenes at Traders Education, instead, the people who actually call you are just con artists that are getting paid commissions to get you to deposit with various brokers/fake systems.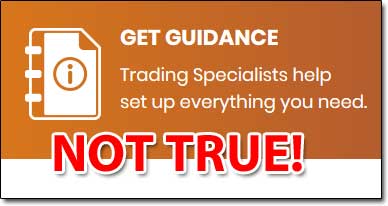 How do I know this? Well, I watched somebody first hand "apply" to the Traders Education website & the so-called "trading specialist" advised them to join the Britcoin System which I recently exposed as a dangerous scam.
Why would such a "specialist" advise somebody to join a scam? A scam that ANY experienced trader would know was fake?
Well, the reason is that the people over at the Britcoin System are paying the crooks behind the Traders Education to send people their way. So if that person had signed up to the Britcoin System as the "specialist" advised, the crooks over at Traders Education would have earned around $250 upon their deposit.
The Trading Scorecards Are Totally Bogus
They really hype up the trading scorecards and make you believe that somehow the scorecard will be beneficial to you but in reality, it's not at all, in fact, it's actually quite the opposite…
The scorecards they generate are basically just so that their phone team know who to target. For example, if you enter that you are unemployed & that you have no money to invest then they are not going to bother calling you… If on the other hand though you state that you are employed and have thousands to invest you better believe that they are not going to leave you alone.
And that's why at the start of this review I said that if you haven't already answered the scorecard questions then you shouldn't do so – because it's just a way for them to get your contact details to further lure you into signing up.
But there's another massive red-flag too which is the fact that there are…
You Might Also Like:
No Contact Details Whatsoever
Would you give your email, phone number & money to a random stranger online? Probably not! So then why are you even considering signing up to the Traders Education website?
The creators of it remain totally anonymous – and there is absolutely no way to get in touch with whoever is behind the website. That is a HUGE red flag for any investment or trading-related company… It's also illegal.
The real reason they hide their details though is actually quite simple – they do it so that in a few months they can simply switch the name up of the scam to escape the negative reviews & then there'll be no trace back to whoever is behind it.
It's a common thing for binary options scams to do, for example, the Bitcoin Profit system recently changed to the Bitcoin Revolution system, then after that, it changed again to the Britcoin System.
I have to admit though that because the Traders Education people are doing everything "behind the scenes" (aka over the phone) the scam may seem a little more convincing – but in reality, it's no different to any of those mentioned above, which brings me onto…
Is Traders Education a Scam?
In my opinion yup, the Traders Education platform is a scam. The reason I say that is because whilst they essentially might not "scam you" as such themselves, it's clear to me that the intention of the whole thing, in reality, is just to make the creators of the whole thing rich at your expense… It's not really set out to help you as it claims.
So it's, therefore, safe to say that overall I won't be recommending the Traders Education website to you because I know if you happen to sign up via their site you'll just end up disappointed & out of pocket.
If you really want to learn how to make good money online then I recommend you check out Wealthy Affiliate instead – it's there that you'll learn how to properly build an income & at least you can rest assured it's legitimate & proven to work too. Plus it's even free to join.
But also aside from that, there are indeed several other ways you can make good money online too which you can see here. However, whatever you decide to do I just hope that my review helped you out & helped you save your hard-earned cash.
If you do happen to have any more questions though that you feel I didn't cover then don't hesitate to leave them below & as always I'll do my best to get back to you as quickly as I can.
A Better Alternative
The sad truth is that unfortunately most of the programs promising to help you make money online are scams. I can say that confidently after exposing over 500+ of them here on this blog.
But the good news is that even though most of them are indeed scams, there are actually some very good programs in amongst them - some programs that can truly help you to earn money.
And out of all of the legit programs I've seen, the one I would recommend the most to anybody looking to get started online is Commission Academy. In my own opinion, that's the best place to start.
At Commission Academy, you'll be provided with everything you need (including the training & tools) to begin earning real money by promoting products or services for companies like Amazon online.
The best part is that there's literally no limit on the amount you can earn with it & the process is pretty simple which means that it's absolutely perfect for people that don't have much experience.
Some wealthy affiliates even earn as much as 5-figures per month... Or more!

I mean don't get me wrong, that kind of money won't just fall into your lap without doing any work... But the harder you're willing to work at it, the more you stand to earn with it.
So if you're looking to get started but don't know which route you should go down or which program you should join (and don't want to waste money on bogus things that don't actually work), then I'd highly recommend checking out Commission Academy first. You can learn more about it here.