The Residual Income Code system has been put together by a guy named Jon Moss & it claims to provide you with "leaked information" which can allegedly enable you to earn as much as $567 per day online.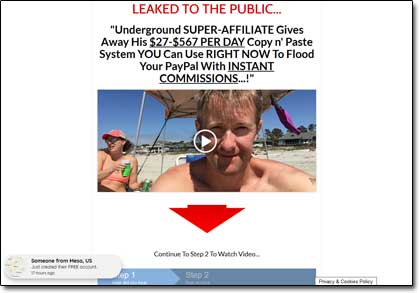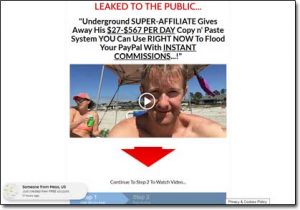 You're led to believe that you'll just be "copying & pasting" and that you can immediately receive a "flood" of commissions to your PayPal account right after you sign up…
But is it really legit, or is The Residual Income Code a scam that'll just end up costing you money rather than helping you make it?
Thankfully you can rest assured that you've landed in exactly the right place to find out as I've taken a closer look into it & in this honest review I'll be uncovering the truth about how it really works & whether or not you can actually make any money with it.
What Is The Residual Income Code?   |   How Does It Work?   |   Can You Make Money With It?   |   Is The Residual Income Code a Scam?   |   A Better Alternative
What Is The Residual Income Code?
The Residual Income Code, which as I just mentioned has been put together by Jon Moss, essentially portrays itself as being some kind of "done-for-you" online business system that you can make money from right away.
The text on the initial landing page promoting the system literally states that it's a "copy & paste system" which can flood your PayPal account with commissions, enabling you to earn between $27 and $597 per day… It even makes out as if it's completely free…

But sadly though as you probably suspected the claims are not quite true, and whilst you can actually potentially make some money with this system – it's going to take a LOT more work to do so than you're told it will, and it could also cost you thousands of dollars too.
In short, it's basically one of those systems where you sign up to learn how to make money but then later find yourself discovering that the way you actually make money with it is just by getting other people to sign up to it exactly as you did.
And you have to be careful with those types of systems because 2 similar systems named Digital Altitude & MOBE were recently shut down by the FTC after the FTC deemed they were actually nothing but pyramid schemes.
The people who had money invested in the programs ended up losing everything when they were shut down… So even though it might initially seem harmless getting involved in something like this, it's safe to say that it's actually pretty risky business.
Regardless though what you do is entirely up to you & because of that I'm still going to walk you through how it all works so that you can make an informed decision for yourself as to whether or not you feel it's right for you. 🙂
How Does The Residual Income Code Work?
So basically The Residual Income Code, as I mentioned in the previous section of this review, portrays itself as being a "free system"… But in reality, this is only half true as you'll soon see.
The reason it's half true is that you can indeed sign up to the system for free, but that's literally all you can do. If you want to put yourself in a position to actually begin making money from it then surprise surprise you've got to spend some money first.
And by the way, as I also mentioned earlier – making money from The Residual Income Code system basically involves you promoting the system to others & getting them to sign up & spend money just like you did.
But anyway, once you sign up to the system you'll be presented with 5 products that you'll be pushed into purchasing (some of which you MUST purchase in order to be able to re-promote the system).
The "products" are as follows:
Engagely ($27) – this is actually another one of Jon Moss' products and it basically generates headlines for you so that you can better promote things on social media. You'll need to purchase this to re-promote The Residual Income Code.
Online Sales Pro ($37/month) – this basically consists of lead generation tools (such as landing page creators) and this is another product that you'll

need

to purchase as part of The Residual Income Code.
AWeber ($19/month) – this is a place where you can build a list of email subscribers and whilst it's not required as such to continue with The Residual Income Code, realistically it would be kinda pointless being a member of Online Sales Pro & not having AWeber… So although you're not technically forced to buy it, you're probably gonna want to buy it if you pursue this opportunity.
Easy 1 Up ($2,000+) – this is the "high ticket" offer sold via The Residual Income Code & you will

need

to be a member of Easy 1 Up in order to grab your affiliate link. You'll also need to personally purchase the products in order to earn commissions by reselling them which could cost you in excess of $2,000 overall.
Clickmagick ($97/month) – The Residual Income Code doesn't come with any sort of click tracking system so you'll be encouraged to buy a subscription of Clickmagick in order to keep track of your traffic.
The thing I'll point out here is that whilst Engagely, Online Sales Pro, AWeber & Clickmagick are all legitimate companies offering real products, the reason I put the word products in quotes is because the Easy 1 Up system is questionable to say the least.
In my review of it, I actually came to the conclusion that in my opinion it was borderline a pyramid scheme… Which is not good! And clearly with costs rising over $2,000 it's crazy-expensive too.
But anyway yeah realistically just to get started with The Residual Income Code it's going to cost you a fair bit of money – and many of the things you'll need to sign up to are subscription based so they'll keep billing you every month too.
You Might Also Like:
But Can You Make Money With It?
Well the truth is yes, you can actually make money with The Residual Income Code system – but like I mentioned towards the start of this review it's not going to be anywhere near as easy as it's made out to be – and as you'll see in a moment you could actually just end up losing money rather than actually making it.
The reason I say that is because the system actually focuses on paid traffic, so rather than learning how to get people to click your affiliate links for free you'll be shown how to buy traffic instead. This might sound like a better option, but the truth is that paid traffic costs money (obviously) and it involves a lot of trial & error – even more so if you're new to it… So it could cost you a LOT of money, and there's no guarantee you'll turn a profit.
I've actually seen people throw tens of thousands into paid traffic with absolutely next to no return at all… It's a dangerous game.
But anyway, the way you'll be making money with The Residual Income Code is simply by getting other people to sign up to it & then purchase the products that are promoted inside, just like you did.
You'll have signed up for the products (which I listed above) and you'll have connected your affiliate links for each of them to The Residual Income Code system, then you'll get an affiliate link to promote The Residual Income Code itself. When people sign up to The Residual Income Code via your affiliate link, the links to the products inside will be YOUR affiliate links… so if they click them & sign up, it's you that makes the money this time around…
Hopefully that makes sense?
But essentially regardless of the products that people are buying into, ultimately the whole thing revolves around you signing up to The Residual Income Code, then you promoting the exact same thing onto other people… Then them signing up, and them doing exactly the same…
So everybody is promoting The Residual Income Code! That's exactly what was going on over at Digital Altitude & MOBE & that's the exact reason the FTC shut them down – they don't like this kind of model (it's too much like a pyramid scheme).
But aside from that, nobody is really learning how to properly generate an income online – and actually, in total there are only SIX training videos inside of the whole system, which add up to make a total viewing time of under 25 minutes.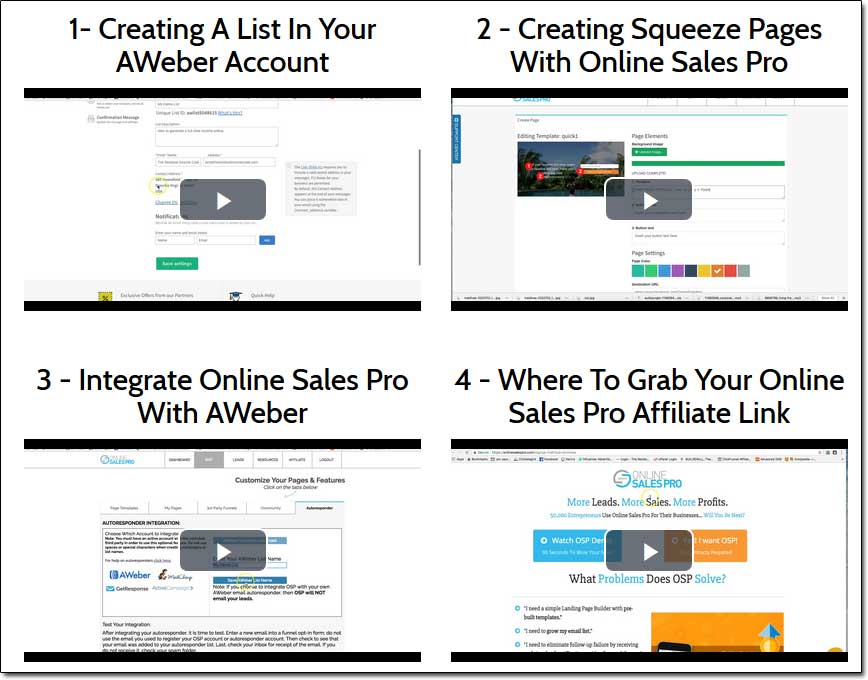 Which brings me onto…
Is The Residual Income Code a Scam?
It's not a scam as such, because after all, it does provide you with a way that you can actually potentially make money… But in my opinion, it's pretty misleading because it's way harder than you're led to believe.
I mean the truth is that despite being called a "copy and paste system" that can "flood your PayPal account with instant commissions", in reality, I think most people will actually struggle to make any money with it.
The reason I say that is because the whole thing revolves around promoting your affiliate link & getting people to click on it… But the training on how to do that is very limited & so you'll probably just find yourself feeling stuck unless you've done this sort of thing before.
So overall because of that, and because of the fact that I personally don't really like the whole business model I won't be recommending it to you in this review. Instead, if you want to learn how to make good money online I suggest you just go through a legitimate & proven program like the Wealthy Affiliate program instead. It's there that you'll learn how to properly get started (without all the hype) and they'll also give you all of the tools you need too.
But anyway whatever you decide to do I just hope my review here has given you a better insight into how this system all works & hopefully now you can decide if it's really something you want to join. If you do still happen to have any questions about it though or maybe some comments you'd like to add then don't hesitate to leave them below & I'll respond back to you as soon as I can.
A Better Alternative
The sad truth is that unfortunately most of the programs promising to help you make money online are scams. I can say that confidently after exposing over 500+ of them here on this blog.
But the good news is that even though most of them are indeed scams, there are actually some very good programs in amongst them - some programs that can truly help you to earn money.
And out of all of the legit programs I've seen, the one I would recommend the most to anybody looking to get started online is Commission Academy. In my own opinion, that's the best place to start.
At Commission Academy, you'll be provided with everything you need (including the training & tools) to begin earning real money by promoting products or services for companies like Amazon online.
The best part is that there's literally no limit on the amount you can earn with it & the process is pretty simple which means that it's absolutely perfect for people that don't have much experience.
Some wealthy affiliates even earn as much as 5-figures per month... Or more!

I mean don't get me wrong, that kind of money won't just fall into your lap without doing any work... But the harder you're willing to work at it, the more you stand to earn with it.
So if you're looking to get started but don't know which route you should go down or which program you should join (and don't want to waste money on bogus things that don't actually work), then I'd highly recommend checking out Commission Academy first. You can learn more about it here.