ZoanCash claims that it is the #1 influencer network in the world & you're led to believe that by signing up you'll be able to earn as much as $300 per day, but it's simply not true.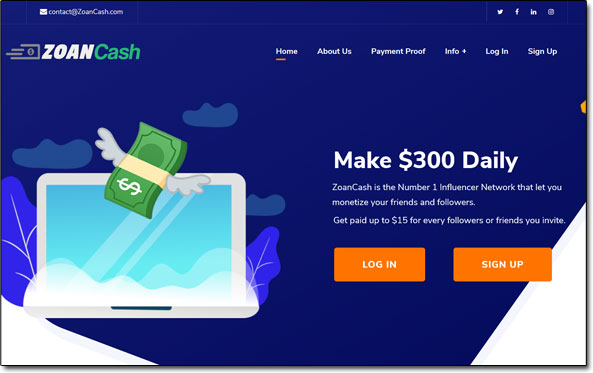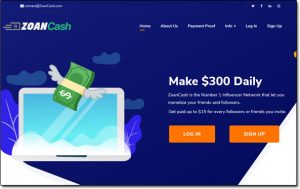 In this ZoanCash review, I'll show you how it really works, why you won't make money with it & what the dangers are if you've already signed up.
The good news is that I'll also show you a much better, legitimate alternative that you can use to make money with instead.
So if you've been thinking about trying out ZoanCash (or have already signed up) then be sure to stick around & read this review as it'll provide you with everything you need to know.
What Is It?   |   How Does It Work?   |   Is It a Scam?   |   The Red-Flags   |   Fake Payment Proof   |   How To Protect Yourself   |   Bottom Line   |   A Legitimate Alternative
What Exactly Is ZoanCash?
ZoanCash calls itself the "number 1 influencer network" and it promises to provide people who have social media influence with an easy way to make lots of money.
According to their homepage, visitors can sign up & then earn money by simply referring friends.
All you supposedly need to do to earn is share your referral link & then ZoanCash will pay you $15 for every friend that clicks it & then creates a free account… Allegedly.
"Make $300 Daily" their site boasts.
But how can this be possible?
If everybody is signing up for free, then simply referring others who are also signing up for free, then how on earth is ZoanCash actually making any money?
How are they able to pay out such large commissions, for such a simple task?
Well, deep in their FAQ they claim the following:
Money generated from ad-spend revenue and sponsorship products is used to pay our members. By inviting friends, you are building traffic to our site and increasing ad revenue.
The problem? That's complete nonsense.
For one, ZoanCash doesn't even have any advertisements displayed on its website… And even if they did, as an experienced online marketer I can tell you that there's no way they'd earn ZoanCash enough money to be able to pay out $15 per referral.
So what's really going on? Let's take a look…
How Does ZoanCash Work?
ZoanCash promises to pay people money in return for referring their friends to their website, but unfortunately, in reality, the whole thing is nothing but a dangerous scam.
The promise of money made by ZoanCash is completely fake & I can tell you that none of the members that join ZoanCash will ever find themselves actually getting paid.
You see, the truth is that ZoanCash is what's known as a data-harvesting scam.
So their intention is not to help people earn money or promote products for "advertisers", their real intention is just to part people with their data so that they can attempt to break into their online accounts.
And they're using the promise of money to do it.
They're basically working on the assumption that most people use the exact same username, email & password combination for every website that they visit.
And it's true, according to a poll, most people do.
So the people behind ZoanCash are simply hoping that you'll also sign up to their website using the same details… And then they'll attempt to login to your other online accounts using the details that you provide.
This could include your Facebook account, PayPal account, Instagram account, etc…
They may also attempt to login to your email account which they could potentially use to then gain access to all of your online accounts associated with that address.
But the scam doesn't stop with just tricking you into signing up…
Instead, they've gone one step further & they've also set their scam up in a way to trick you into then referring others into it so that they can also get their details too.
You think you're earning money, but really you're just luring others into the scam.
And sadly you'll only be left to discover that it's not legit after wasting a ton of your time & attempting to make a withdrawal as you'll see that it never actually gets processed.
That's why their withdrawal limit is set to stupidly high.
They want you to be forced into referring as many people as possible before you're able to discover that it doesn't really pay. All of the "money earned" is totally fake.
Is ZoanCash a Scam?
Yes, it's definitely a scam. The whole thing has been built purely to part you with your data so that the people behind it can attempt to compromise your other online accounts.
Prior to being called ZoanCash, it has actually been seen under several other names too, such as:
The creators of ZoanCash are simply hoping that you'll sign up using the same details that you use at other websites & then if you do, they'll use them to break into your accounts.
On top of that, they're also then tricking you into promoting the scam for them by promising to pay you money in return for referring others.
The problem though is that the "money" isn't real. They are just faking the numbers inside of the member accounts & then just leaving people to find out that its a scam when they try to make a withdrawal.
The Red-Flags
First off, there's the fact that as mentioned in the previous section of this ZoanCash review, the whole thing has already been seen operating under different names in the past.
On top of that, ZoanCash claims to have been around since 2008 – yet a quick search on the age of the website reveals that it's actually only a mere 23 days old.
Take a look: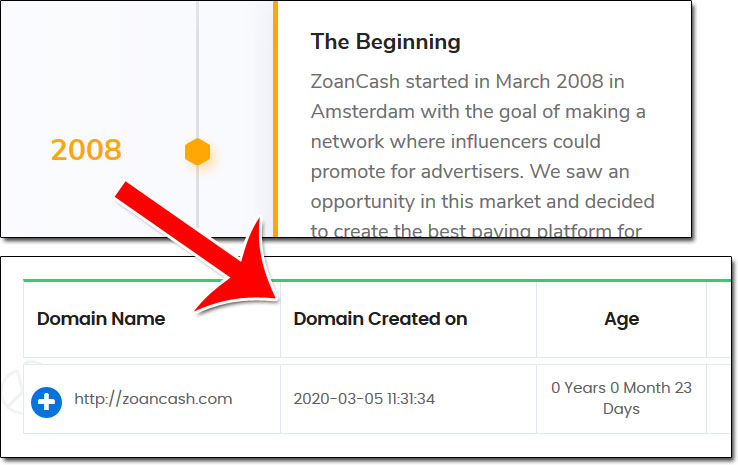 Then, there's the fact that the address shown on the ZoanCash website is also associated with the Money Chaser scam that I exposed right here on this blog in the past.
You can see that here: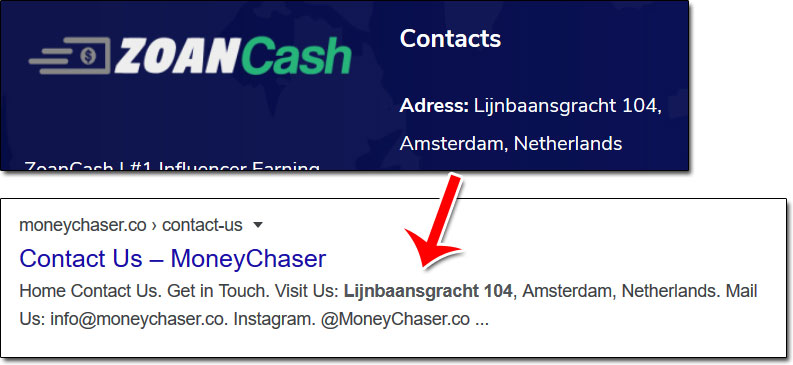 So it's pretty easy to see that the ZoanCash website is full of trickery & lies and there's just no way that a legitimate website would deploy such tactics.
But it only gets worse…
You Might Also Like:
Fake Payment Proof
In an effort to convince people that the website may actually be legit, ZoanCash have even gone to the lengths of creating a "payment proof" page on which they list supposed payouts.
All of the payments show that the money has supposedly been sent out through PayPal using the address "paypal@zoancash.com" as shown in the screenshot below:


Guess what though?
The PayPal address doesn't even exist… The "payment proof" images have all just been edited in Photoshop.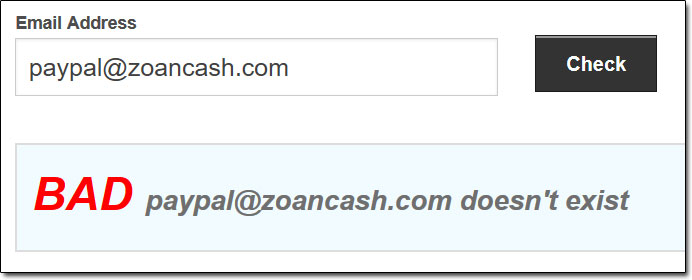 How To Protect Yourself If You've Already Signed Up
If you've already signed up to ZoanCash prior to coming to this review & you did so using new, unique details that you don't use anywhere else then the good news is that you'll be safe.
Yes, you may get spammed – but your accounts won't stand the risk of being compromised which is the most important thing.
If, however, you signed up the same details that you do indeed use elsewhere then you should go ahead & change those details ASAP.
So as an example if you signed up to ZoanCash using the same details that you use to login to Facebook with then you should head to Facebook & change your details there as soon as you can.
Plus, if you already referred others into ZoanCash you should also encourage them to do the same, or share this ZoanCash review with them so that they can discover the truth.
The Bottom Line
ZoanCash is a scam, there's no doubt about that. It's a scam that puts your data at risk & it's a scam that could also see you wasting a lot of your time.
You should make sure that you avoid it.
The truth is that there are many ways to make money online but none of them will see you earning lots of money quickly or easily. Good money requires a good amount of work.
If a program or website, or anything for that matter promises that it can enable you to earn good money with ease then frankly you should run a mile, or at least check for reviews first before joining.
And always check multiple reviews rather than just the one too, because often some of the scam companies go out of their way to create positive reviews in order to trick people into signing up.
Sad, but true.
A Legitimate Way That You Can Earn Instead
ZoanCash itself may be a scam but there are still other legitimate ways that you can earn money online & one of my top recommended ways is something called affiliate marketing.
Through affiliate marketing, you're able to earn money by promoting products or services online – such as products from sites like Amazon, Best Buy, etc.
It's a really good way to make money & I myself actually make most of my own money online with affiliate marketing so I would highly recommend it to anybody looking to earn.
If you'd like to get started with it or learn more about it then, in my opinion, the best place you can do that is Commission Academy.
At Commission Academy, you'll get all of the training & tools you need to begin making money with it & you'll also get access to a hugely active community of other people who are also doing it too.
The best part is that you can even get started there for free, so I'd definitely recommend at least checking it out if you're still interested in legitimately building an income online.
Whatever you decide to do though I just hope that my ZoanCash review here has given you a good insight into how it really works & I also hope it helped you to avoid getting caught out by it.