20 Cogs is a relatively new website that claims to provide people with various ways to earn money online in their spare time. To date, they claim to have paid out a whopping £600,000+ to their members & you too can allegedly also begin earning money through the site without having to pay to get started.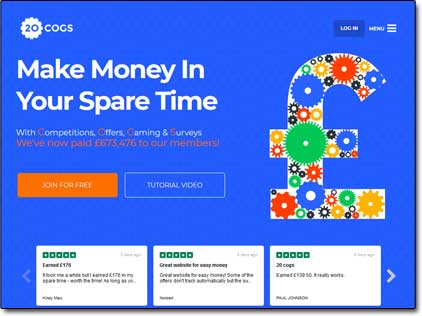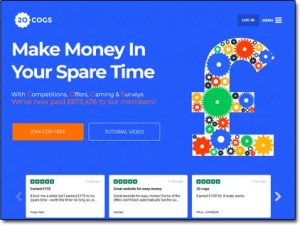 But can you actually make decent money with it? And is it really legit or is 20 Cogs a scam that'll just end up wasting your time rather than actually helping you make money? Those are exactly the things I'll be covering in this review.
So if you've come across the 20 Cogs site & you've been thinking about getting involved with it then be sure to read this post first to see if it'll actually be worth your time as there are some important things you need to know before you join.
What Is 20 Cogs?   |   How Does 20 Cogs Work?   |   The Catch   |   Can You Make Good Money?   |   Is 20 Cogs a Scam?   |   A Better Alternative
What Is 20 Cogs?
20 Cogs is a UK based website that enables its members to earn money in their spare time online by completing small tasks such as filling in surveys, entering competitions, playing games & signing up for offers.
It's what's known as a Get-Paid-To website or rewards site & there are already several of these around. Some of the more popular ones you might have heard of include sites like Global Test Market, Valued Opinions & Survey Junkie.
The sites do provide a legitimate way to make money, but usually, nothing substantial is to be expected through these kinds of things. More often than not you'll be able to earn a few extra dollars each month & that'll be about it… And it'll often still take up quite a bit of your time to do just that.
20 Cogs on the other-hand claim to pay a little more than most other sites, with several members reporting that they've earned hundreds of pounds through the site…
Some (according to the 20 Cogs homepage) have even cashed out as much as £733 as shown below:

However, you have to be careful when things start sounding a little too good to be true because there are indeed plenty of scams online. Just recently I exposed 2 scam survey sites, Quick Pay Survey & Take Surveys For Cash… So it always pays to do your research before participating.
But is 20 Cogs a scam? Or can you really earn hundreds like some of the members seem to claim?
Let's take a closer look & see how it all works…
How Does 20 Cogs Work?
Right from the off I can confirm that 20 Cogs is indeed legit, but don't be fooled by the seemingly high member earnings. It appears that these are just the highest withdrawals & that those members let their accounts accrue money for a very long time before withdrawing.
One thing you have to be careful of though is that the 20 Cogs site could actually end up costing you money – but I'll explain more about that in a moment.
The Process of Making Money With 20 Cogs Explained
As promised on their website signing up with 20 Cogs is indeed free of charge & once you've signed up with them you'll be given the opportunity to begin earning via 4 different means, which are:
Competitions
Offers
Gaming
Surveys
And if you hadn't already noticed, this is where they got the name COGS from.
Upon completing your registration the dashboard you're taken to will look something like this: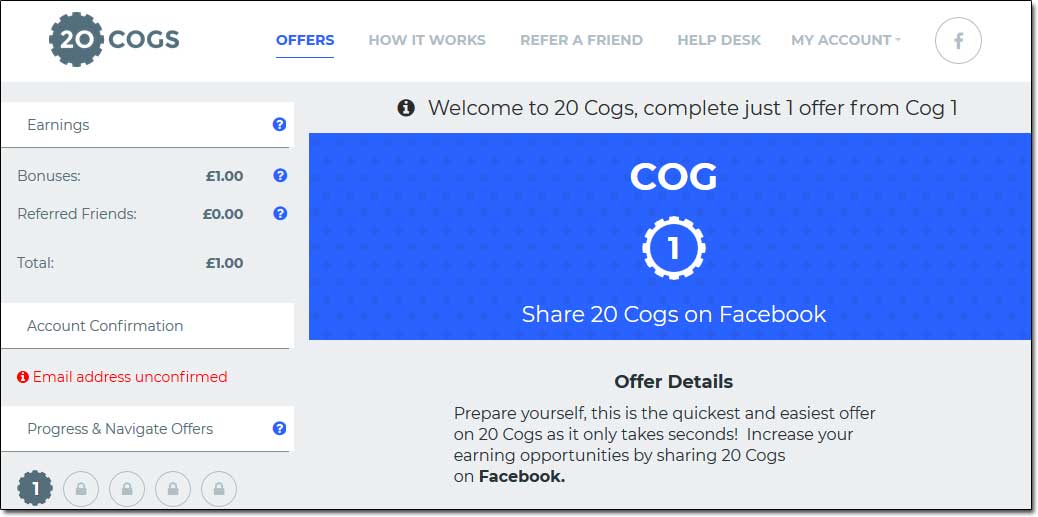 You'll be shown an offer (which as a new member usually requires you to share 20 Cogs on Facebook) and you can choose to complete the offer to earn some money or alternatively you can hit the "GIVE ME A NEW OFFER" button for a different task to complete instead.
Once you successfully complete an offer the monetary reward will be credited to your account.
You'll be able to keep track of all of the offers you've completed on the left-hand side. They're depicted as little cogs and they'll change colour depending on the status. They'll be yellow whilst pending, then they'll turn green once completed – or red if rejected.
Sound Easy, But There's a Catch…
At a glance, you might be thinking wow, what an easy site to make good money with… And whilst yes, it can be – it can also be the opposite too. 20 Cogs can actually end up costing you money instead.
The reason for that is because many of the offers require you to sign up to various trials of third party products or services & if you happen to forget to cancel them you could see yourself getting billed pretty substantial sums of cash.
For example one of the current offers on my dashboard claims it will pay me £12.50 for signing up to a 1 month trial of Which magazine, which only costs £1.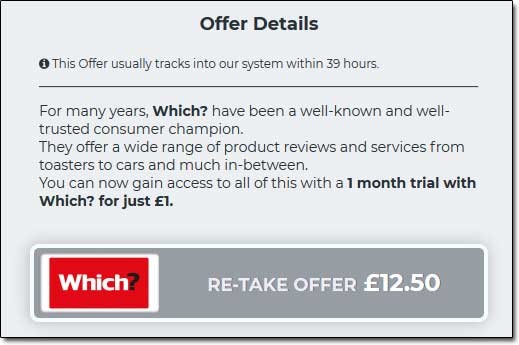 Off the bat, it sounds like a great deal, but after looking more closely at the terms of the offer there's a paragraph that states the following:
"When your trial month ends, your membership continues at £10.75 per month so you won't miss a single day of these great Which? benefits."
2 months of being signed up to that without noticing & you'll have ended up losing money rather than actually making it. You'd be down £10!
And I know, you're probably thinking "well I'll just be sure to cancel as soon as I've signed up"… And that's all fair and well if you do that you'll be good… But you have to appreciate it can get pretty difficult a few weeks in when you'll have signed up to literally hundreds of similar trials.
There's Another Problem Too…
I'll admit that I haven't experienced this particular problem first hand (since I've only briefly used the site), but a lot of members have been posting claims that often they've completed offers & haven't been rewarded for them.
I know this is a big issue on many of the cashback websites as the tracking technology relies on cookies being set on the users PC & if these happen to get deleted then the digital "proof" of the user completing the task essentially disappears.
So you could find yourself spending 10 minutes signing up to something (and even paying money) only for it not to be counted as a successfully completed COG inside of your account.
Now I'd imagine that if you got in touch with 20 Cogs they'd likely check up on it for you & credit your account accordingly – but do you really want to keep having to go through this rigmarole? It would likely get pretty annoying.
You Might Also Like:
Can You Make Good Money With 20 Cogs?
I'll be honest, compared to most other rewards sites you can actually make fairly decent money over at 20 Cogs. I mean you won't make millions, and you won't get rich overnight – but you could make a hundred or so extra pounds per year & that's not too bad at all really.
Well, it's not bad if you don't mind signing up to things which could potentially end up costing you if you accidentally forget to cancel them… So there kind of is a catch, but it's up to you to decide whether or not you think it's worth it.
If you're just looking for a little bit of extra cash & you think you'll be on the ball in terms of cancelling all of the subscriptions you have to sign up to then it could be a decent little earner for you.
However, if you're looking to earn a little bit more money – or potentially a full-time income online & you don't want to have to sign up to trials & the like then I suggest you check out something like Commission Academy instead. That's a free training program & it'll teach you to leverage the internet to build a scalable income, which you can earn from anywhere & even turn into a full-time job.
Is 20 Cogs a Scam?
It's definitely not a scam – it's a legitimate website through which you can earn extra money from home, however, you'll need to tread cautiously with it as some of the offers you're told to complete could actually end up costing you money (and quite a lot of money too!).
Compared to most of the other rewards sites & paid survey sites I've reviewed 20 Cogs does pay quite well & it's possible for you to earn a couple of extra hundred pounds a year through the site… Potentially even more if you really spend quite a bit of time on it.
But ultimately despite it getting the "thumbs up" treatment from me I still do personally believe there are better ways to make money online. Ways that will allow you to better leverage your time & earn more money.
One of those ways is something called affiliate marketing, which you can learn more about through Commission Academy (for free). It's basically where you connect people with the products they're looking for online & get paid commissions if any of them happen to make a purchase.
However, it's up to you as to what you decide to do. Maybe you literally only just want to earn a little extra cash in which 20 Cogs will be a good site to do just that.
Whatever you decide to do though I just hope my review here has given you all of the information you were looking to know & hopefully you now have a better idea of how it all works. If you do still happen to have any further questions or comments though then don't hesitate to leave them below & I'll get back to you as soon as I can.
A Better Alternative
The sad truth is that unfortunately most of the programs promising to help you make money online are scams. I can say that confidently after exposing over 500+ of them here on this blog.
But the good news is that even though most of them are indeed scams, there are actually some very good programs in amongst them - some programs that can truly help you to earn money.
And out of all of the legit programs I've seen, the one I would recommend the most to anybody looking to get started online is Commission Academy. In my own opinion, that's the best place to start.
At Commission Academy, you'll be provided with everything you need (including the training & tools) to begin earning real money by promoting products or services for companies like Amazon online.
The best part is that there's literally no limit on the amount you can earn with it & the process is pretty simple which means that it's absolutely perfect for people that don't have much experience.
Some wealthy affiliates even earn as much as 5-figures per month... Or more!

I mean don't get me wrong, that kind of money won't just fall into your lap without doing any work... But the harder you're willing to work at it, the more you stand to earn with it.
So if you're looking to get started but don't know which route you should go down or which program you should join (and don't want to waste money on bogus things that don't actually work), then I'd highly recommend checking out Commission Academy first. You can learn more about it here.