The newly launched "Profit Download" program claims that it can enable you to earn "$650 a pop" from other peoples failures & boasts that it's completely push-button simple.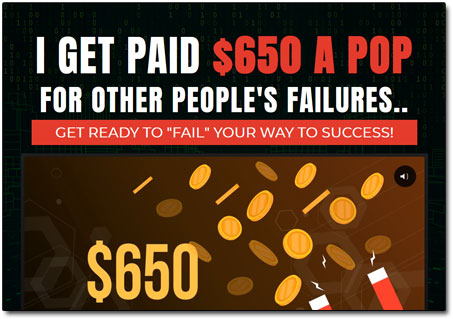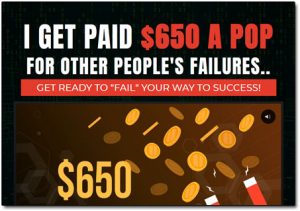 This means that essentially, you're led to believe that you can simply sign up, push a button & then begin generating an income all on complete autopilot, even if you're just a beginner.
But is it really legit? Or is Profit Download a scam to avoid?
Well, the good news is that you've landed in the right place to find out because I've personally taken a closer look into it & in this honest Profit Download review I'll be uncovering everything you need to know.
What Is Profit Download?   |   Who Is Jamie Lewis?   |   How Does Profit Download Work?   |   The Red Flags   |   Is Profit Download a Scam?   |   A Better Alternative
What Is Profit Download?
Profit Download is a brand new program that's recently been launched by an online marketer named Jamie Lewis & it essentially promises to provide a push-button way to make money online.
You're led to believe by the Profit Download website that you can simply sign up, push a button & then begin generating profits of over "$650 a pop" all from some sort of automated method.
But funnily enough, the website doesn't actually mention anything about what the so-called "method" involves.
Instead, in order to learn more about the method & get started with the Profit Download system, you're required to firstly hand over at least $19 of your own hard-earned cash.
And this is where things get a little sketchy.
You see, 9 times out of a 10, when a program makes extremely bold claims about being able to help you to make lots of money but requires your cash for you to learn more, it's a get-rich-quick scam.
That's basically how most get-rich-quick scams work – they promise to provide you with an easy way to make lots of money, ask you to pay to get started & then just leave you to find out that the hard way that they don't really work as promised after all.
And it's safe to say that at a glance, Profit Download certainly fits the bill.
Thankfully, however, the good news is that I've done the digging & discovered exactly what Profit Download is about so that you can just read my review instead of having to put your own cash at risk.
I'll explain exactly how it all really works in just a moment but first, let's take a closer look at the person who's actually behind it.
Who Is Jamie Lewis?
Jamie Lewis is a name that's very well known throughout the online marketing industry but unfortunately, it's typically not for good reasons.
You see, the reason Jamie's name is so well known is primarily that he creates so many low-quality, hyped-up programs that make extremely bold promises but fail to deliver on them.
In fact, I've actually reviewed many of his past programs such as:
Yet despite him coming out with so many programs that all claim to have the answer to generating easy riches, I've yet to see so much as a single one of them actually provide something useful.
It seems to me that the only one truly generating easy riches from his programs is Jamie himself… And he's doing that at the expense of all the "victims" that he's luring in with his claims.
But is Profit Download finally any different? Let's take a look…
How Does Profit Download Work?
In short, there isn't really any sort of "push-button money-magnet" that you can activate inside of the Profit Download system like you're led to believe on the sales page.
Instead, it is actually just something that's based around teaching a method known as website flipping.
So this means that if you hand over your cash to buy into the Profit Download system then you won't really find yourself making money by just "pushing a button"…
You'll just get access to some step-by-step training & a few basic resources that teach you how you can begin earning money by selling websites on a marketplace known as Flippa.
And given the low quality of the training that you do get given access to, I'm confident in saying that you'll likely find yourself pretty disappointed.
I can also confidently say that you will NOT find yourself getting rich with the system either.
In fact, the reality is that you probably won't find yourself making any money at all & the reason for that is because the method that Jamie teaches via Profit Download is kinda flawed.
You see, rather than buy websites (or build them) to sell as you would do with legitimate website flipping, Jamie tries to teach you a bit of a "hack".
He basically gives you access to 20 different website templates & tells you that you can just keep listing them for sale on Flippa under different names.
And whilst this may work for a short while, there are some issues:
Flippa will probably end up suspending your account for duplicate (spammy) listings
Most buyers will easily see that the websites are just basic templated websites
Once you've sold a few, people will be able to see your selling duplicate sites via your sale history
So yeah, you may find yourself initially earning enough back to cover the costs of Jamie's course (if you're lucky) but there's just no way that this is going to provide you with a reliable stream of income.
I mean if it could, Jamie would be doing it himself, right?
Instead, here he is trying to get you to buy into his course. That says it all.
You Might Also Like:
The Red Flags
Well, the first red flag is the most obvious one – the fact that the entire thing simply sounds WAY too good to be true. As the good old saying goes, "if something sounds too good to be true, it probably is".
In the instance of the Profit Download scam, it definitely is.
But then there's the fact that, as I mentioned at the start of this review, you're required to hand over your cash before you get to find out any details on how it's supposed to actually work.
That's literally one of the biggest telltale signs of a get-rich-quick scam there is.
So if you ever come across a program or system that promises to provide you with access to an easy way to make lots of money but requires you to invest first to find out how it works, you should give it a wide berth.
There are plenty of legitimate alternatives, meaning there's no need to fool around with risky options like those.
And then the third red flag is the fact that the person behind Profit Download has a history of creating several other programs that made similar bold promises but simply failed to deliver.
Some of his previous programs include Perpetual Income 365, Profit 365 & Repeat Payments (among others).
And that brings me onto…
Is Profit Download a Scam?
Yes, in my opinion, Profit Download by Jamie Lewis is a scam.
I appreciate that some people may argue that it's not a scam since you do actually get access to some training after handing over your cash, but let's be realistic – it's easy to see Jamie's intent.
Jamie hasn't created Profit Download to help you. He's created it with the intention of luring you in with false promises, then upselling you to squeeze as much cash from you as he can.
All in all, despite having a seemingly low entry fee of just $19, Profit Download could end up costing you a whopping $500+… And the refund policy through WarriorPlus is sketchy, to say the least.
The bottom line is that Jamie promises that you'll be getting access to some sort of push-button system for making money that'll see you generating "$650 a pop" with ease & that's not what you get.
It's just like paying $19 for a Bluetooth speaker & getting a banana instead. You wouldn't be happy & if you spend your money on the Profit Download system then I'm confident to say you wouldn't be happy with that either.
So I would personally advise that you steer clear of the Profit Download scam & instead if you're still looking for ways to earn money online I'd recommend you stick with these legit alternatives.
But whatever you decide to do, I just hope that you found my review of Profit Download here helpful & most importantly, I hope it helped you to save some of your hard-earned cash.
A Better Alternative
The sad truth is that unfortunately most of the programs promising to help you make money online are scams. I can say that confidently after exposing over 500+ of them here on this blog.
But the good news is that even though most of them are indeed scams, there are actually some very good programs in amongst them - some programs that can truly help you to earn money.
And out of all of the legit programs I've seen, the one I would recommend the most to anybody looking to get started online is Commission Academy. In my own opinion, that's the best place to start.
At Commission Academy, you'll be provided with everything you need (including the training & tools) to begin earning real money by promoting products or services for companies like Amazon online.
The best part is that there's literally no limit on the amount you can earn with it & the process is pretty simple which means that it's absolutely perfect for people that don't have much experience.
Some wealthy affiliates even earn as much as 5-figures per month... Or more!

I mean don't get me wrong, that kind of money won't just fall into your lap without doing any work... But the harder you're willing to work at it, the more you stand to earn with it.
So if you're looking to get started but don't know which route you should go down or which program you should join (and don't want to waste money on bogus things that don't actually work), then I'd highly recommend checking out Commission Academy first. You can learn more about it here.