So you've probably already visited ShoutNow.co, the site that claims to be the "#1 influencer network in the world" prior to coming to this review…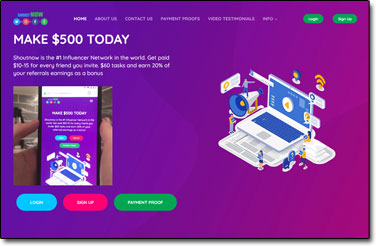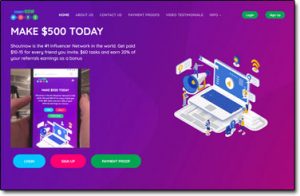 And the reason you likely decided to look for a review after visiting it is because you're likely pretty darn sceptical about the whole thing, am I right?
For example, they claim that you can just simply sign up, share a link & begin making $10 to $15 for every friend that you get to create a free account…
Plus they also claim to provide additional simple tasks which pay up to $60 apiece.
According to them, you can easily make hundreds of dollars per day…
But is it legit? Or is ShoutNow.co a scam?
Sadly the short answer is that ShoutNow is indeed a scam. None of the members that join will ever get paid & as you'll soon see in this review there are some hidden dangers for those that sign up.
The good news though is that I'll also be sharing some legitimate alternatives you can use instead so be sure to keep on reading if you're still looking to find a way to earn…
What Is ShoutNow?   |   How Does It Work?   |   Does ShoutNow Really Pay?   |   Payment Proof   |   Fake Address   |   Is ShoutNow a Scam?   |   A Better Alternative
ShoutNow Review – Taking a Closer Look
When it comes to earning money online you've probably already heard of things like paid surveys & you might have even heard of something called affiliate marketing which involves referring people to products for cash.
So looking at the ShoutNow website there's a good chance that you might be thinking it could actually be real.
After all, they claim that they'll pay you for referring people (which can actually happen) and they also claim that they'll pay you in return for small tasks (and there are already websites that do actually do that).
The problem lies with how much ShoutNow claim to be paying people.
In short, it's unrealistic… VERY unrealistic.
You see, to begin with, there's the fact that typically the sites that pay people for completing small tasks (such as paid surveys) pay very, very low.
The reason for that is not just because the tasks are easy, but because there are so many people willing to complete them. Those types of sites never need to pay good money because there's always somebody more desperate for cash that'll do it for less.
As a result, most people struggle to earn even as much as just $1 per day from Get-Paid-To sites which is why I never really recommend them. There are just flat-out better ways to use your time to earn money.
On top of that though there's also the issue with where the money is actually coming from…
You see, ShoutNow.co claims to pay people between $10 to $15 for referring new people, but as an experienced online marketer, I can tell you that there's simply no way they could afford to do that.
If people are creating free accounts, then getting others to create free accounts who are then getting others to do the same, that means the only revenue is coming from the "tasks"… So there's absolutely no way that they could pay $60 per task AND $10 to $15 for referrals.
It doesn't add up.
And the reason it doesn't add up is because it's a big fat scam.
I can say that so confidently so soon because whilst ShoutNow.co is a new website, the scam itself isn't new & I've actually already exposed it several times right here on this blog.
Same Old Scam, Under a New Name…
The people behind the ShoutNow scam simply keep on launching their scam under new names & changing the appearance a little in an attempt to escape the reviews which expose the truth (like this one) so that they can continue tricking people into signing up.
Some of its previous names include:
And there are many many more but you get the idea…
Now I know what you're probably wondering… If it's free, how can it scam you?
Well, the reality is that despite being free & seemingly harmless, the ShoutNow scam is actually pretty dangerous & you'll see why as I explain in finer detail how it all works below…
How Does ShoutNow Work?
There are 2 main ways that the ShoutNow scam & the other associated scams are set out to con people.
The first thing they're set out to do is harvest people's data in an attempt to use it to break into their online accounts.
The second thing they're set out to do is to trick people into signing up for "free trials" & then hope that they forget about them so that they can earn commissions when the people end up getting billed.
We'll take a closer look at those below…
Data Harvesting
The people behind ShoutNow are basically working on the concept that most people use the exact same username & password details to sign up to almost every website that they visit – and it's true, they do.
According to Security Boulevard, around 59% use the exact same credentials to sign up & sign in to every site they visit.
So the people behind ShoutNow are simply hoping that you sign up to their site with the exact same details too because that way they'll then be able to gain access to your other online accounts as well.
That could include your Facebook account, PayPal account, etc…
The "Free Trials" Trap
On top of harvesting people's data, ShoutNow is also tricking people into signing up for free trials, which after a certain period actually aren't as free as the ShoutNow website claimed they'd be.
They list the trials as "tasks" and claim that for each one you sign up to you'll earn some money, but they're basically hoping that you sign up to so many that you end up forgetting about them & find yourself getting billed.
If you get billed, they get paid commissions…
Does ShoutNow Actually Pay?
The worst part of all this is that not only is ShoutNow set out to trick people, but it doesn't actually pay any of its members either – and only leaves them to find out the hard way when they try to make a withdrawal.
ShoutNow (and the other associated scam sites) have set up their websites in a way that makes people believe they're earning when they're not.
So if you were to sign up and refer somebody – which I obviously don't recommend doing – then your account balance would increase accordingly by $10 to $15 as they promise on their homepage.
Similarly, if you were to complete a "task" then your balance would also increase.
The problem though is that none of the money is real, it's nothing more than numbers. This means that when you finally go to make a withdrawal you'll just find out that the whole thing has been a complete waste of time.
That's also why they've set their withdrawal limit so ridiculously high.
A normal Get-Paid-To website would let you withdraw your earnings after reaching around $10 but over at ShoutNow you have to reach hundreds of dollars instead which is always a big red flag.
And you don't have to just take my word for it, here's what people are saying on Twitter: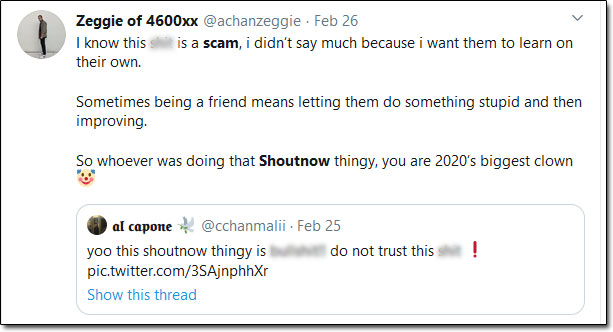 What About The Payment Proof?
In an effort to try & make the site seem legitimate, ShoutNow have gone to the lengths of adding what they call "payment proof" to their website, however what you might have noticed is that literally nothing is actually proved.
For example, there are a bunch of screenshots in which people claim to be making money from ShoutNow, but ShoutNow have made sure that the username isn't visible on any of them so that you can't check it out.
Then alongside that there's a video from the so-called ShoutNow top-earner in which he shows you his ShoutNow balance but once again this proves nothing at all since he doesn't show you himself actually getting paid.
So you can take all of the proof with a pinch of salt because it's no proof at all.
You Might Also Like:
And Then There's The Address…
Would a legitimate company add a fake address to their website? I don't think so…. Yet the address shown on the ShoutNow website is actually the address of a seafood restaurant named "Sunshine Seafood Restaurant".
Take a look:

Which brings me onto…
Is ShoutNow a Scam? My Final Verdict
ShoutNow is definitely a scam, there's no doubt about it. The evidence is absolutely overwhelming & like I mentioned at the start of this review I've already exposed it several times before under various different names.
If you were thinking about trying it out, take my advice & don't… And if you've already signed up prior to coming to this review then I'd recommend staying away from it & making sure your passwords are different on all other websites.
By signing up all you will find yourself doing is wasting your time & potentially putting your data at risk. You could also end up finding yourself charged after signing up to so-called "free trials" inside of the site and forgetting to cancel them.
In short, there are simply many better ways that you can legitimately earn online. There is no need to bother with a site like ShoutNow.
And this is where I'll point out to you that my favourite way to earn online is via a method called affiliate marketing. It's actually the same way I personally earn online & it's a method that's relatively easy to get started with.
If you'd like to learn more about how it works then you can read my guide here or alternatively if you'd just like to dive straight in then you can check out my top recommended program, Commission Academy.
But whatever you decide to do I just sincerely hope that my honest review of ShoutNow here has given you a good insight into how the whole thing works & most importantly I hope it's helped you to avoid it.
A Better Alternative
The sad truth is that unfortunately most of the programs promising to help you make money online are scams. I can say that confidently after exposing over 500+ of them here on this blog.
But the good news is that even though most of them are indeed scams, there are actually some very good programs in amongst them - some programs that can truly help you to earn money.
And out of all of the legit programs I've seen, the one I would recommend the most to anybody looking to get started online is Commission Academy. In my own opinion, that's the best place to start.
At Commission Academy, you'll be provided with everything you need (including the training & tools) to begin earning real money by promoting products or services for companies like Amazon online.
The best part is that there's literally no limit on the amount you can earn with it & the process is pretty simple which means that it's absolutely perfect for people that don't have much experience.
Some wealthy affiliates even earn as much as 5-figures per month... Or more!

I mean don't get me wrong, that kind of money won't just fall into your lap without doing any work... But the harder you're willing to work at it, the more you stand to earn with it.
So if you're looking to get started but don't know which route you should go down or which program you should join (and don't want to waste money on bogus things that don't actually work), then I'd highly recommend checking out Commission Academy first. You can learn more about it here.